Electrician in Chino, CA
When you choose Trout Electric, you're also choosing excellence and a team of experienced professionals who will do whatever it takes to get the job done right. With over 15 years of serving our communities, it's essential that we're here for home and business owners alike when they need same-day or 24/7 services. We offer all major electrical services in Chino, CA, but we are also focused on preparing your space for the future with smart home integration, EV chargers, and electrical remodeling. When you need service you can trust, count on us at Trout Electric.
Schedule your free estimate now by calling us at (951) 338-9592 or filling out our online contact form.
Why Choose Trout Electric?
What Makes Us Different
Serving Riverside, CA Since 2008
Certified QMerit Partner

Providing trusted electrification installation solutions that meet the highest standards of safety and service quality.

Rigorous Professional Standards

All Trout employees are held to high standards of personal conduct and ethics.

We Offer Financing Options

We offer a variety of options. Call to learn about the details.

We Offer Emergency Services

Get the immediate help you need, whenever you need it.

Licensed, Insured, & Vetted

We make it easy for you to have confidence in the team you call.

Contact Us Today for a Free Estimate

Talk to our electrical team today during a free estimate.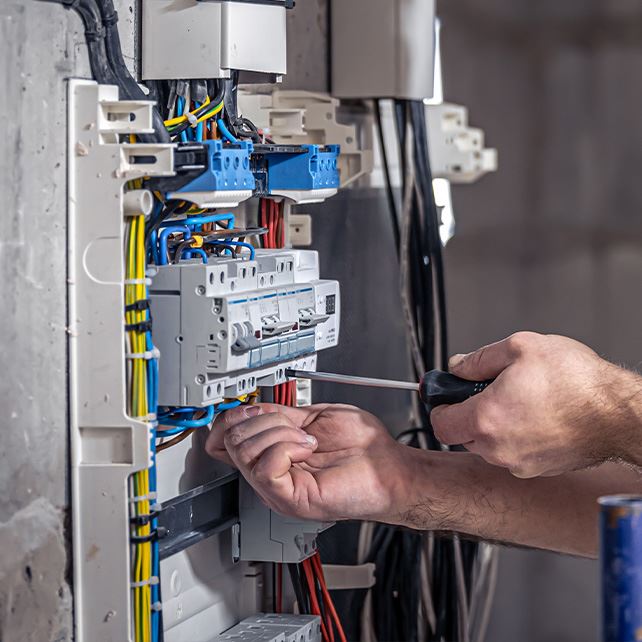 "My Go-To Electrician"

- Michelle H.
Our Electrical Services
Let our team be the one-stop shop when your home or business needs reliable electrical solutions.
We provide these thorough services whenever you need us:
Join Our Electrical Savings and Safety Program Today!
Contact us to learn more about what's included with this program and how it can save you money!
Experienced Pros That Are Here for You
Don't delay when we're here to provide comprehensive electrical services in Chino. Call (951) 338-9592 when you are ready to schedule a same-day free estimate!