Electricians in Moreno Valley, CA
24/7 & Same-Day Services
We're here to help make your day easier with comprehensive services, electrical upgrades, and smart-home integration. Trout Electric is known as one of the few pioneers of EV charging and some of the best troubleshooters in the industry. With bilingual professionals here for you at any time during the day, there's no reason for you to face breakdowns or blackouts alone. If you're looking for service you can trust, count on our reliable electricians in Moreno Valley, CA. We have the solutions to any problem your home or business faces with stocked trucks and 15 years of experience.
Don't struggle with malfunctioning electrical any longer! Call (951) 338-9592 or fill out our online contact form when you are ready to schedule a free estimate.
Why Choose Trout Electric?
What Makes Us Different
Serving Riverside, CA Since 2008
Certified QMerit Partner

Providing trusted electrification installation solutions that meet the highest standards of safety and service quality.

Rigorous Professional Standards

All Trout employees are held to high standards of personal conduct and ethics.

We Offer Financing Options

We offer a variety of options. Call to learn about the details.

We Offer Emergency Services

Get the immediate help you need, whenever you need it.

Licensed, Insured, & Vetted

We make it easy for you to have confidence in the team you call.

Contact Us Today for a Free Estimate

Talk to our electrical team today during a free estimate.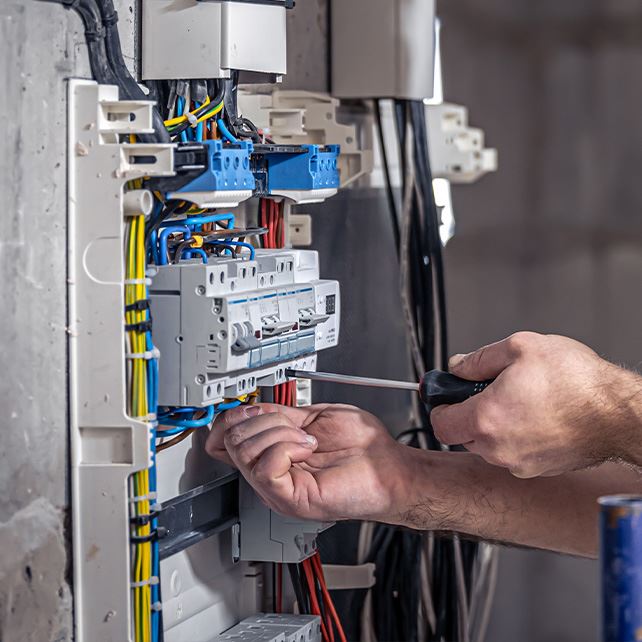 "Great Experience!"

- Serge N.
EV Charging FAQs
Installing an EV charging station at your home or business is a significant investment.
As your EV charging pioneers, we're here to answer these frequently asked questions:
Are there incentives or rebates?
To reduce installation costs, state and federal tax credits may be available for equipment, infrastructure upgrades, and installation to offset up to 30% of costs. Consider these savings as just another reason to invest in EV charging.
Do you provide personalized charging stations?
Yes! Our team is prepared to organize and design a charging station for your home or business, depending on how many vehicles you have, your current electrical capabilities, and your aesthetic preferences.
Should I charge my EV every night?
You should keep your electric vehicle between 20-80% charged, so how often you charge may vary with daily use and commute requirements. If you're unsure what charging level will best meet your needs, don't hesitate to ask our knowledgeable electricians in Moreno Valley.
Join Our Electrical Savings and Safety Program Today!
Contact us to learn more about what's included with this program and how it can save you money!
24/7 Emergency Solutions
When you lose electricity unexpectedly, it can be challenging to remember the next steps. Trout Electric is here to help you during an emergency with available generator services that can make using backup power easier. This preventative solution can make otherwise stressful situations easier to manage.
If you're experiencing a breakdown causing sparks or other safety concerns, we're here 24/7, even in severe weather. Don't struggle through extreme temperatures and risk illness when the best troubleshooters in the industry are at your service. Our trucks are fully stocked to manage any problem your home or business faces.
Should I Upgrade My Electrical?
Common electrical upgrades include smart-home integration, ceiling fan additions, panel replacements, and GFCI outlets. Though these are beneficial, when is the best time to make these changes to your home or business?
There's no one clear answer, but here are a few signs your system is ready for an upgrade:
It's 25+ years old
Lights dim or flicker
There are not enough outlets
Components are warm to the touch
Many older buildings lack the infrastructure necessary to meet today's energy and safety requirements. The National Electric Code updates its protocol every three years, meaning a decades-old system could be without essential safety fixtures like GFCI outlets or proper grounding techniques.
If your home or business suffers from issues like flickering lights, warm-to-the-touch components, or the constant use of extension cords, Trout Electric is here to help. There's no one else to count on when you need high-quality electrical services in Moreno Valley.
Keep your home or business safe with long-lasting upgrades. Call us today at (951) 338-9592 for a free quote!