Generator Services in Riverside, CA
Generator Installation & Repair in Los Angeles, Riverside, Orange & San Bernardino Counties
The weather can change suddenly in Southern California, so it's important to be prepared for an emergency. A generator installation from Trout Electric is the best way to ensure that you and your loved ones are protected in the event of a storm or blackout. We provide maintenance and repair for all makes and models of generators.
Contact us today at (951) 338-9592 for your generator service!
Why Choose Trout Electric?
What Makes Us Different
Certified QMerit Partner

Providing trusted electrification installation solutions that meet the highest standards of safety and service quality.

Rigorous Professional Standards

All Trout employees are held to high standards of personal conduct and ethics.

We Offer Financing Options

We offer a variety of options. Call to learn about the details.

We Offer Emergency Services

Get the immediate help you need, whenever you need it.

Licensed, Insured, & Vetted

We make it easy for you to have confidence in the team you call.

Contact Us Today for a Free Estimate

Talk to our electrical team today during a free estimate.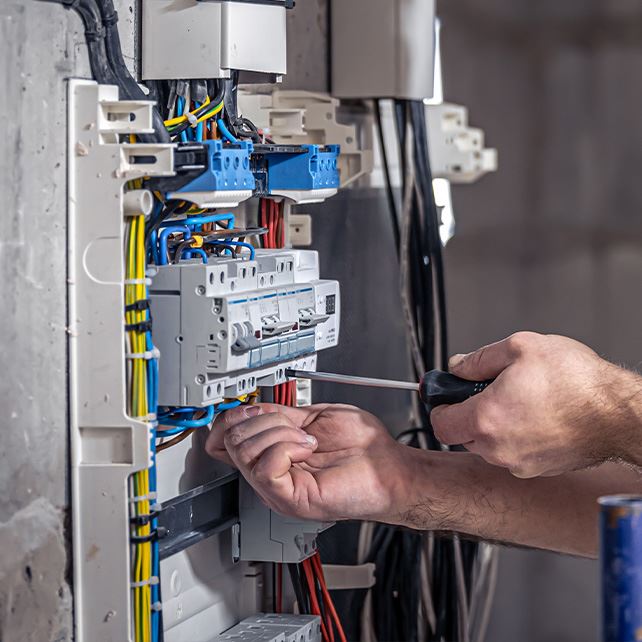 "Great Experience!"

- Serge N.
Professional Generator Installation
Proper installation is the foundation of a reliable and safe generator system. It involves a few important steps, including:
Site assessment: Before installation, we'll assess your property to determine the ideal location for your generator. We'll take into consideration factors such as noise levels, ventilation, and the proximity to gas and electrical connections.
Electrical work: Our licensed electricians will handle transfer switch installation, which is required to connect your generator to your home's electrical system. This ensures that the generator safely provides power to your home without risking injury to utility workers who may be restoring power.
Fuel source installation: If you have a gas or propane-powered generator, we'll also install the proper fuel source, which may include a gas meter or propane tank.
Testing and commissioning: We'll run a series of tests to ensure that your generator is running smoothly and is connected correctly to your home or business.
Join Our Electrical Savings and Safety Program Today!
Contact us to learn more about what's included with this program and how it can save you money!
When to Call for Generator Repair
You should consider generator repair if you are experiencing problems with your generator after a storm. Storms can cause damage to your generator, so it's important to contact a repair technician as soon as possible after a storm. Another sign that your generator needs repair is if it's older than 10 years. Generators have a lifespan of about 10 to 15 years, so if yours is past that age, it's likely to have more problems than not. Another indication that your generator needs repair is if it's making unusual sounds, such as buzzing or grinding. Finally, if your generator isn't providing power as it should, call for repair.
Some of the most common issues our technicians can solve include:
Faulty starter motor or battery: If your generator won't start, it's likely due to a faulty starter motor or battery. We can diagnose and repair these issues.
Blockages in the fuel system: Clogs in the fuel system can cause your generator to sputter or die. Our team can clean the fuel system and get your generator back to running smoothly.
Overloaded circuits: Running too many appliances on a single circuit can overload your generator and cause it to shut down. We can help you avoid this issue by configuring your generator for your specific needs.
Call for Generator Repair After a Storm
Southern California is known for having four seasons in one day, so it's not uncommon for us to experience a variety of weather conditions in a single day. Unfortunately, this also means that we're at risk of experiencing power outages. When the power goes out, it can be frustrating, but it's even more frustrating when you realize that the generator isn't providing power as it should.
Maintenance Services to Keep the Lights On
A generator needs to be maintained just like any other piece of equipment, so if you aren't keeping up with generator maintenance, you may experience problems. Here are some tips to ensure that your generator is ready when you need it:
Service your generator twice yearly, even if you're not using it.
Check oil and replace filters and spark plugs at regular intervals.
Keep the area around your generator free of debris and rodents.
Verify that your generator has been serviced recently ahead of any severe weather.
At Trout Electric, we understand the importance of having a reliable and safe generator system. That's why we offer a range of services, including installation, repair, and maintenance, to keep you powered up and safe. Contact us today for an estimate and get the peace of mind that comes with proper generator installation and repair.
Call for generator repair after a storm, and for maintenance during normal weather conditions, by contacting Trout Electric at (951) 338-9592.