Electrical Panel Services in Riverside, CA
Our Electricians Can Fix & Replace Electrical Panels in Los Angeles, Riverside, Orange & San Bernardino Counties
Electricity is one of the most important aspects of modern life, powering everything from our homes to our workplaces. Electrical panels, also known as circuit breaker boxes, play a vital role in the distribution of electricity throughout our homes. They are responsible for regulating the flow of electricity from the main power source to the various circuits throughout the property to power your home or business's lights, appliances, and electronic devices. The breakers inside the panel then regulate the amount of electricity flowing to each circuit to prevent overloading and damage to your electrical system.
If your home or business has a faulty electrical panel, you should not try to fix it yourself. Trout Electric provides electrical panel repair and replacement services to Riverside and surrounding communities. We can fix damaged panels and restore functionality, or we can replace an outdated or defective panel with a modern unit.
Contact us today at (951) 338-9592 to schedule an estimate for your electrical panel service.
Why Choose Trout Electric?
What Makes Us Different
Certified QMerit Partner

Providing trusted electrification installation solutions that meet the highest standards of safety and service quality.

Rigorous Professional Standards

All Trout employees are held to high standards of personal conduct and ethics.

We Offer Financing Options

We offer a variety of options. Call to learn about the details.

We Offer Emergency Services

Get the immediate help you need, whenever you need it.

Licensed, Insured, & Vetted

We make it easy for you to have confidence in the team you call.

Contact Us Today for a Free Estimate

Talk to our electrical team today during a free estimate.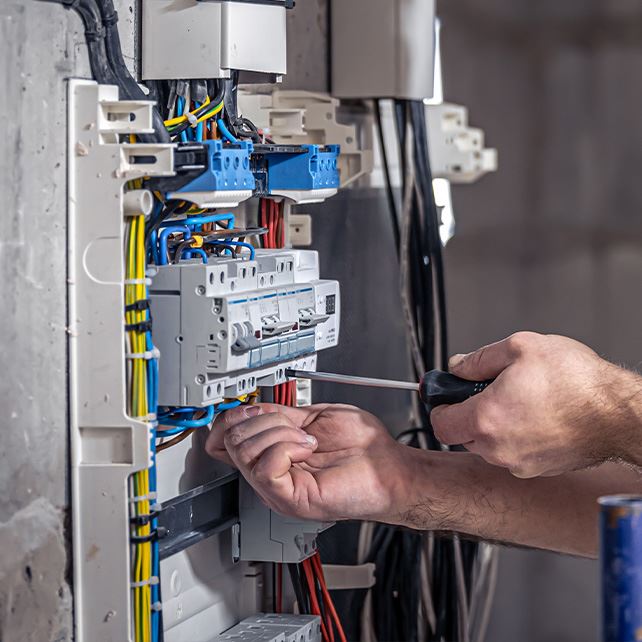 "Excellent EV Charger Install!"

- Rob S.
Signs You Need an Electrical Panel Service
Your electrical panel controls all the electricity in your home or commercial space. Any malfunction can potentially result in serious safety hazards and damage to your property.
If you notice any of the following signs, it could mean your panel needs repair:
Flickering lighting
The panel feels warm to the touch
You do not have enough power for new appliances or devices
You notice damaged or burnt out fuses or circuit breakers
When it comes to electrical panel repair, it's important to hire a qualified professional. Attempting to fix it yourself or hiring an inexperienced contractor can lead to serious safety risks. Faulty electrical panels can cause electrical surges, power outages, and even fires. These hazards can lead to property damage, appliance failure, and worst of all, fatal injuries.
Electrical panels can also cause fires if they are outdated or damaged. Overloaded circuits can melt the insulation on wiring leading to electrical surges, which can cause extensive damage to your appliances, electronics, and other devices; dangerous electrical shocks; and fires that can damage your property.
By hiring our professional electricians to repair your electrical panel, you can rest assured that the job will be done safely and correctly. We have the knowledge and expertise to diagnose issues and ensure they meet local safety codes and regulations. We also come equipped with the proper tools and equipment to fix the issue efficiently and effectively. With years of experience, we know the intricacies of each panel and can get to the root of the problem quickly.
Join Our Electrical Savings and Safety Program Today!
Contact us to learn more about what's included with this program and how it can save you money!
Book Your Appointment Today!
The hazards of faulty electrical panels are not to be taken lightly. DIY repairs or inexperienced contractors pose serious risks to your property and personal safety. Hiring our professionals ensures your electrical panel is repaired safely and correctly. Not only does this guarantee your safety, but it also saves you money in the long run by preventing costly repairs or replacements. Electrical panels are essential to the proper functioning of your home, and it's crucial to have them repaired by a professional to avoid potential hazards.
We offer 24-hour emergency services so you will never have to worry about being without electricity. Our electricians can assess your electrical panel and determine whether repair or replacement is best for your home or business.
Call (951) 338-9592 or contact us online today to schedule a consultation for Riverside electrical panel services.