Electricians in Irvine, CA
Service You Can Trust
Trout Electric has served tens of thousands of customers in our communities as a bilingual team here for your home or business, no matter the day or time. Your electrical system is a critical aspect of daily routines, whether that's making coffee or serving a customer. We are dedicated to being there for everyone when you need trustworthy electricians in Irvine, CA. We take pride in our services and being at the forefront of new technologies like EV charging. We'll do whatever it takes to go above and beyond for our communities with same-day services and available financing.
We're the best troubleshooters in the industry! Call us now at (951) 338-9592 for a free estimate.
Why Choose Trout Electric?
What Makes Us Different
Serving Riverside, CA Since 2008
Certified QMerit Partner

Providing trusted electrification installation solutions that meet the highest standards of safety and service quality.

Rigorous Professional Standards

All Trout employees are held to high standards of personal conduct and ethics.

We Offer Financing Options

We offer a variety of options. Call to learn about the details.

We Offer Emergency Services

Get the immediate help you need, whenever you need it.

Licensed, Insured, & Vetted

We make it easy for you to have confidence in the team you call.

Contact Us Today for a Free Estimate

Talk to our electrical team today during a free estimate.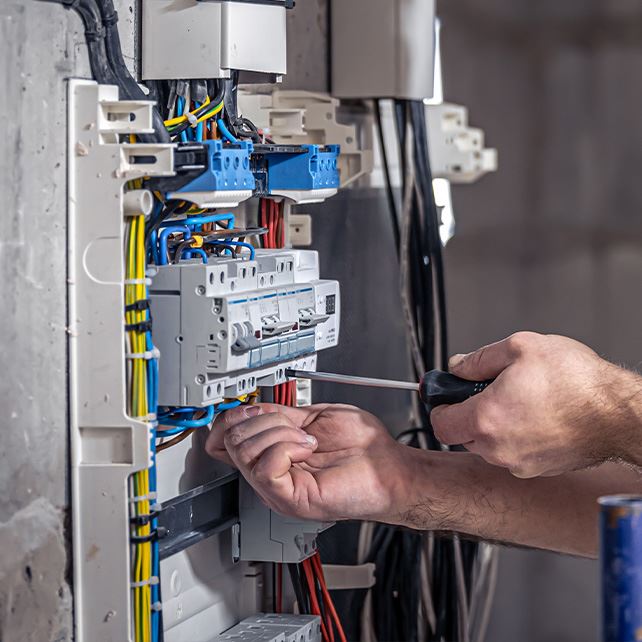 "Great Experience!"

- Serge N.
EV Charging Services
EV chargers in residential or commercial spaces provide various benefits.
At-home adding a level one or two charger offers these advantages in the long-term:
Increased home value
Convenience
Reduced cost
Don't spend hours at a public station when you could charge your electric vehicle at home while relaxing or eating dinner. You can also increase savings over time by charging your car during cheaper energy periods like overnight or on weekends, depending on your provider. If you're considering selling, an EV charger could dramatically increase the property value and attract more potential buyers.
Level three is the fastest available EV charging and benefits commercial spaces in these ways:
Serve more customers
Customizable setup
Attract new employees
Trout Electric's high-quality electrical services in Irvine include creating a personalized charging station for new customers or employees. Many consumers and professionals are looking for eco-friendly companies, and adding an EV charging station proves you're dedicated to environmentally conscious practices. Using level three chargers allows you to serve as many community members as possible for maximum impact and profit.
Join Our Electrical Savings and Safety Program Today!
Contact us to learn more about what's included with this program and how it can save you money!
Emergency Prevention & Services
You may not be in charge of the weather, but there are preventative steps you can take to protect your home or business in case of an emergency. During rolling blackouts or other electrical problems, a generator can help you stay comfortable, safe, or connected to customers. We're here to help you decide which size and type of generator will best meet your needs during unexpected circumstances.
Even though you're prepared, you may still experience an unexpected electrical breakdown. Our reliable electricians are here for you 24 hours a day to provide fast and trustworthy solutions. Electrical emergencies may include sparks, overheating fixtures, waterlogged components, or any other electrical problem that puts you or your property at risk.
Electrical Remodeling
Older, prebuilt homes are a great choice because of their charm, architecture, and memories. Still, these outdated buildings often come with aging electrical components that can be dangerous to the success of your business or the comfort of your family.
We recommend considering these electrical upgrades for your system:
Smart-home integration: Connecting your lights, blinds, coffee maker, and HVAC system to one primary hub makes it easy to control your home remotely, set a routine for your kids, or maximize profits.
Panel replacements: Upgrading your electrical panel helps you safely use more energy for updated appliances or EV chargers. This also allows our professionals to address safety concerns and reconfigure circuits.
GFCI outlets: Many buildings built in the 70s lack GFCI or GFC outlets in bathrooms and kitchens that prevent water from causing shorts or sparks. Adding this safety measure to your home or business is an investment in the longevity of your space.
When you need electric solutions in Irvine, Call us at (951) 338-9592 or fill out our online contact form for a free estimate!