Outdoor Lighting Services in Riverside, CA
Professional Electricians Providing Services for Outdoor Lighting in Los Angeles, Riverside, Orange & San Bernardino Counties
At Trout Electric, we understand the importance of providing outdoor lighting for your home or business. Your property's safety and security should be a top priority, which is why you should consider installing outdoor lighting.
The benefits of installing outdoor lighting include:
Prevents intruders from sneaking into your backyard while the lights are off
Increases a home's overall value
Allows guests to easily find your front door at night
Adds aesthetic value to your yard or garden
Whether you want to install lighting on your property's front lawn, in your garden, or along your walkway, we can do the job quickly and efficiently.
Why Choose Trout Electric?
What Makes Us Different
Certified QMerit Partner

Providing trusted electrification installation solutions that meet the highest standards of safety and service quality.

Rigorous Professional Standards

All Trout employees are held to high standards of personal conduct and ethics.

We Offer Financing Options

We offer a variety of options. Call to learn about the details.

We Offer Emergency Services

Get the immediate help you need, whenever you need it.

Licensed, Insured, & Vetted

We make it easy for you to have confidence in the team you call.

Contact Us Today for a Free Estimate

Talk to our electrical team today during a free estimate.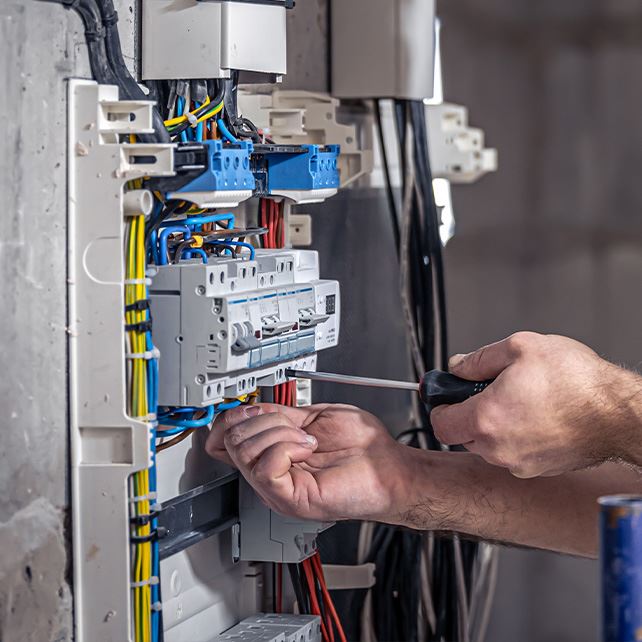 "Great Experience!"

- Serge N.
Our Outdoor Lighting Installation Services
The outdoor lighting installation services that we provide include:
Landscape lighting
Pathway lighting
Pool lighting
Security lighting
Shed lighting
Garden lighting
And more!
Our electricians can help you choose the perfect lights for your property and assist you with installing them so you can enjoy the enhanced safety and aesthetic appeal that outdoor lighting provides.
Join Our Electrical Savings and Safety Program Today!
Contact us to learn more about what's included with this program and how it can save you money!
Wiring for Outdoor Lighting
If you are looking to change the location of your existing light fixture, or are adding new lights, we can help. We can assist you with changing out light fixtures, adding new ones, and updating wiring to make the job easier and safer for you.
Some examples of light wiring services we provide include:
Bulb replacement
Fixture changes
Pathway lighting
Pool lighting
Security lighting
Shed lighting
Our professional electricians will always ensure your safety while performing any electrical work in your home.
Call us today at (951) 338-9592 or contact us online to ask any questions about our outdoor lighting services in Riverside.