Tesla Powerwall Installation

Tesla Powerwall Installation in Riverside, CA
Powerwall Repairs in Los Angeles, Riverside, Orange & San Bernardino Counties
With Tesla's Powerwall, you never have to worry about your family being left in the dark again. Electrical outages are a problem of the past with this state-of-the-art energy storage solution. At Trout Electric, we are proud to offer professional installation services for Tesla's Powerwall. Our licensed and insured electricians have the knowledge and expertise necessary to install and maintain this cutting-edge energy storage system. With a commitment to quality workmanship and customer service, Trout Electric is the premier choice for all your electrical service needs.
Schedule a Powerwall installation in Riverside by calling (951) 338-9592. We can also be reached online.
Why Choose Trout Electric?
What Makes Us Different
Certified QMerit Partner

Providing trusted electrification installation solutions that meet the highest standards of safety and service quality.

Rigorous Professional Standards

All Trout employees are held to high standards of personal conduct and ethics.

We Offer Financing Options

We offer a variety of options. Call to learn about the details.

We Offer Emergency Services

Get the immediate help you need, whenever you need it.

Licensed, Insured, & Vetted

We make it easy for you to have confidence in the team you call.

Contact Us Today for a Free Estimate

Talk to our electrical team today during a free estimate.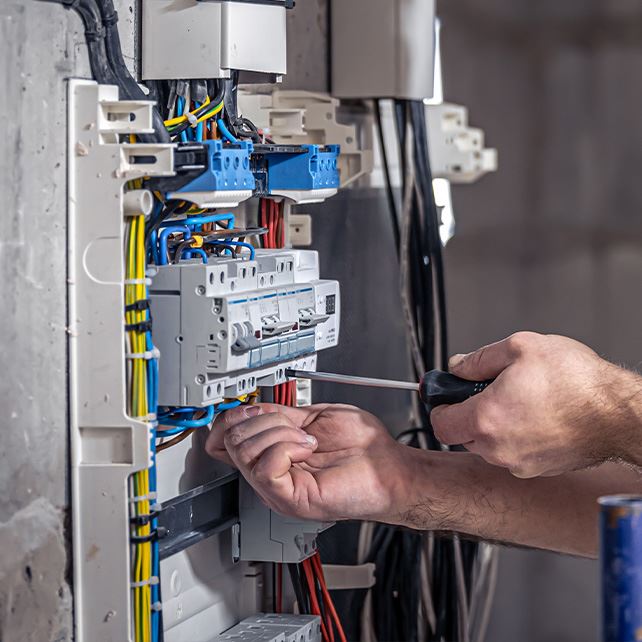 "My Go-To Electrician"

- Michelle H.
What Is Powerwall?
Tesla Powerwall is a rechargeable lithium-ion battery that is designed for home use. It is an energy storage solution that stores energy generated by solar panels, making it available for use whenever needed. Powerwall is a sleek, wall-mounted unit that can be charged during off-peak hours when energy is plentiful and less expensive. It also provides backup power during an outage, ensuring that you'll always have power when you need it.
Join Our Electrical Savings and Safety Program Today!
Contact us to learn more about what's included with this program and how it can save you money!
Benefits of Powerwall
As a pioneer in the energy storage industry, Powerwall leads the way in energy storage technology and efficiency. Powerwall offers many benefits to homeowners seeking to reduce their dependency on the electrical grid.
These include:
Backup power: In the event of a power outage, Powerwall provides seamless and reliable backup power to essential appliances and circuits.
Maximizes solar usage: Powerwall stores excess energy generated by solar panels during the day, making it available for use during peak hours and reducing reliance on grid power.
Cost savings: By reducing reliance on the grid during peak hours, Powerwall significantly reduces energy bills.
Scalable: Multiple Powerwalls can be installed together for increased energy storage capacity.
Rechargeable: Powerwall can be charged during off-peak hours when energy is less expensive and stored for future use during peak hours.
Environmental benefits: By reducing reliance on the grid, Powerwall reduces carbon dioxide emissions and environmental impact, making it an eco-friendly choice.
Overall, Tesla Powerwall offers a reliable and sustainable energy storage solution that can help reduce energy costs and provide peace of mind during power outages.
Delivering a Seamless Electrification Process
At Trout Electric, we take great pride in assisting our clients along their eco-friendly journeys. As a leader in electrification, we offer a range of services to help you decrease your dependence on technologies that run on fossil fuels. In addition to Tesla's Powerwall, we offer EV charging stations, Tesla charging stations, LED lighting, smart thermostats, generators, and more. Trout Electric is partnered with QMerit to ensure a seamless electrification transition, helping you to reduce your impact on the environment by powering your home with technologies run by renewable energy.
Call our Riverside Powerwall installation experts at (951) 338-9592 to learn more.