Electrical Wiring & Rewiring in Riverside, CA
Electrician for Wiring Repair in Los Angeles, Riverside, Orange & San Bernardino Counties
At Trout Electric, we understand the importance of proper electrical wiring and rewiring in any home or business. Faulty wiring can lead to dangerous situations, including electrical fires and electrical shocks. By providing comprehensive electrical wiring and rewiring services, we help ensure your safety and the safety of your loved ones.
Our team of licensed and experienced electricians can help identify potential hazards hiding in your electrical system. Faulty wiring, damaged appliances, and outdated wiring can all pose a danger to the individuals within a building. Our professionals can detect these hazards and offer comprehensive solutions to protect your safety.
Contact us to schedule your service. We also offer 24/7 emergency repairs and can be there when you need us most.
Why Choose Trout Electric?
What Makes Us Different
Certified QMerit Partner

Providing trusted electrification installation solutions that meet the highest standards of safety and service quality.

Rigorous Professional Standards

All Trout employees are held to high standards of personal conduct and ethics.

We Offer Financing Options

We offer a variety of options. Call to learn about the details.

We Offer Emergency Services

Get the immediate help you need, whenever you need it.

Licensed, Insured, & Vetted

We make it easy for you to have confidence in the team you call.

Contact Us Today for a Free Estimate

Talk to our electrical team today during a free estimate.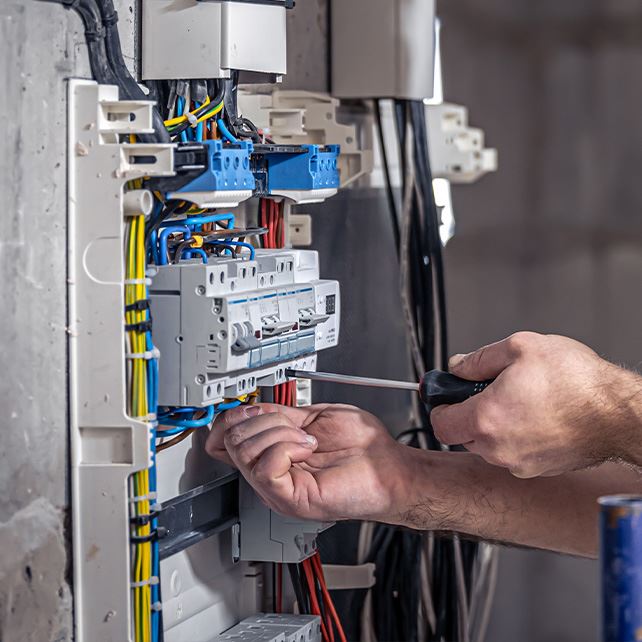 "Great Experience!"

- Serge N.
Signs You Need Rewiring Services
There are several warning signs that you should look out for that indicate their property may require rewiring. These signs could include flickering lights, overheating appliances, tripping breakers, and more. If you notice any of these signs in your home or business, it is essential that you contact Trout Electric as soon as possible.
Our team of experts will conduct a thorough inspection and identify potential wiring issues that could cause safety hazards. Once identified, we offer comprehensive rewiring services that will help keep your appliances functioning safely while protecting the people living or working in the building.
Join Our Electrical Savings and Safety Program Today!
Contact us to learn more about what's included with this program and how it can save you money!
Wiring for Additions and Renovations
If you are adding onto your home or renovating an office, you want everything to look beautiful and new. With Trout Electric, you can trust that we will make sure your new wiring looks just as good as the rest of your beautiful property. We can help you plan out the best way to get the job done quickly and can make sure that everything is wired correctly and safely.
Trout Electric provides construction wiring for new builds and commercial spaces. Whether you are building a new home or office, we can help you make sure that everything is wired the way it should be. We can design your system with the latest technology and make sure everything is safely tucked away out of sight. We can help you save energy and can ensure that everything is up to code.
Professional Residential Electrical Services
No matter what type of electrical problem you are having in your home, Trout Electric can help. We are a family-run business with years of experience solving all kinds of electrical problems. You can trust that we will treat you with respect and honesty, and that we will get the job done quickly and correctly.
Contact us today at (951) 338-9592 to get a free estimate on electrical wiring for your home.