24-Hour Emergency Electrical Repair

Emergency Electrical Repair in Riverside, CA
24/7 Emergency Electrical Repair in Los Angeles, Riverside, Orange & San Bernardino Counties
At Trout Electric, we understand how important it is to have a reliable source for electrical repairs. For this reason, we make it our highest priority to respond quickly and provide the highest quality service for electrical problems in Riverside and the surrounding areas. No matter how severe or minor the issue may be, you can count on our team of experienced electricians to provide fast, accurate repairs.
Call us now at (951) 338-9592 or fill out our online form and we can help restore your electrical systems.
Why Choose Trout Electric?
What Makes Us Different
Certified QMerit Partner

Providing trusted electrification installation solutions that meet the highest standards of safety and service quality.

Rigorous Professional Standards

All Trout employees are held to high standards of personal conduct and ethics.

We Offer Financing Options

We offer a variety of options. Call to learn about the details.

We Offer Emergency Services

Get the immediate help you need, whenever you need it.

Licensed, Insured, & Vetted

We make it easy for you to have confidence in the team you call.

Contact Us Today for a Free Estimate

Talk to our electrical team today during a free estimate.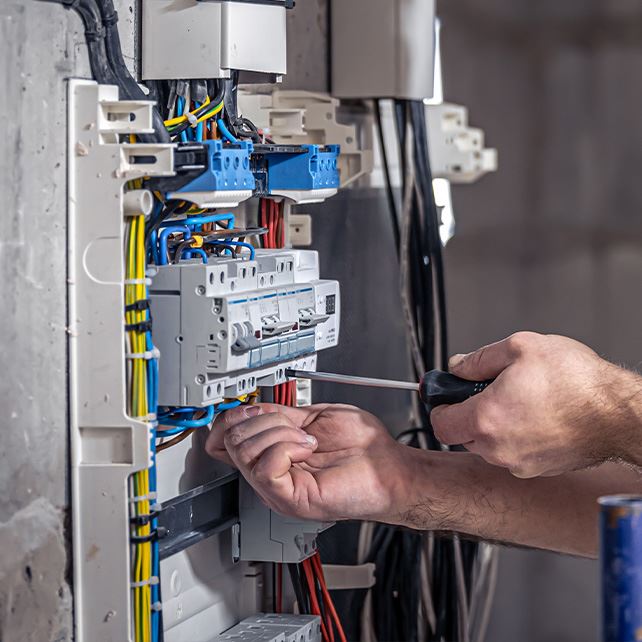 "Great Experience!"

- Serge N.
Our Emergency Electrical Services
Electrical emergencies can happen at any time, day or night. When an urgent electrical issue arises, waiting until regular business hours to get it fixed is often not an option. Electrical emergencies can be extremely dangerous and potentially life-threatening. For example, power outages or electrical surges can cause a lot of damage to your property, not to mention inconvenience and stress. Such issues need to be addressed as soon as possible to avoid further damage to the electrical system or even to the property itself. Offering reliable and professional 24/7 emergency electrical repair service, our team can help minimize the risk of damage and ensure that the issue is resolved quickly and effectively.
It's important to know the signs of an electrical emergency so that you can act quickly to address them. Look for the following signs that you may need emergency electrical services:
Frequent power outages
Sparks or smoke coming from electrical outlets or appliances
Burning smells coming from electrical outlets or appliances
Flickering or dimming lights
Electrical shocks or tingling sensations
A buzzing or humming sound coming from an electrical device or outlet
Join Our Electrical Savings and Safety Program Today!
Contact us to learn more about what's included with this program and how it can save you money!
Call Us for Your Service Today
We are licensed and insured and have achieved the highest level of certification available from the National Association of Electrical Inspectors (NAEI). This level of certification is achieved by less than 5% of electrical inspectors nationwide and ensures that we are accurately identifying the source of your electrical problem and delivering the most accurate estimate for repair.
When you are faced with any type of electrical problem, our team of dedicated professionals work hard to provide a superior level of service to ensure that your electrical system is safe and reliable. We believe that the most effective way to build a long-lasting relationship with our customers is to provide the highest level of service with honesty and integrity.
Give us a call at (951) 338-9592 and we would be happy to provide a free estimate for any electrical repair in Riverside.