Riverside Circuit Breaker Services
New Circuit Breakers for Old Systems in Los Angeles, Riverside, Orange & San Bernardino Counties
If your electrical system is over 20 years old, it is likely that the components are starting to wear out. This includes the circuit breakers, which are a vital part of your electrical system. When the breakers start to malfunction, it is an indication that they are close to failing completely. You should have them replaced before they put your home at risk of a serious electrical fire.
Our team at Trout Electric can replace your faulty breakers with new ones. We have a full line of quality circuit breakers from some of the best manufacturers in the industry. We can inspect your old breakers and recommend the best replacement for your home.
Call (951) 338-9592 or contact us online today to schedule an appointment for circuit breaker repair services in Riverside.
Circuit breakers can develop issues over time due to wear and tear, electrical faults, or environmental factors. Common problems include tripping frequently, not resetting, or physically damaged components. Any of these signs could indicate a problem that requires attention.
Circuit breakers are designed to last a long time, but they can degrade over years of use. If you're experiencing repeated issues with a specific breaker, it might be time to consider replacing it.
Why Choose Trout Electric?
What Makes Us Different
Certified QMerit Partner

Providing trusted electrification installation solutions that meet the highest standards of safety and service quality.

Rigorous Professional Standards

All Trout employees are held to high standards of personal conduct and ethics.

We Offer Financing Options

We offer a variety of options. Call to learn about the details.

We Offer Emergency Services

Get the immediate help you need, whenever you need it.

Licensed, Insured, & Vetted

We make it easy for you to have confidence in the team you call.

Contact Us Today for a Free Estimate

Talk to our electrical team today during a free estimate.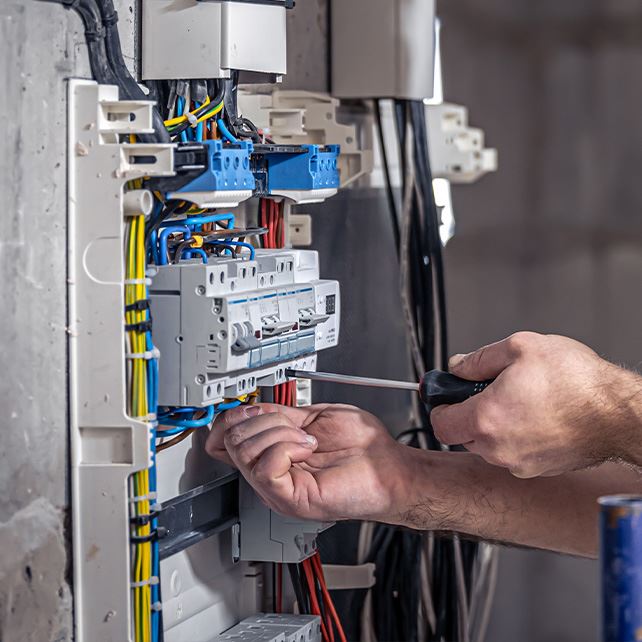 "My Go-To Electrician"

- Michelle H.
What Do Circuit Breakers Do?
Circuit breakers are an essential part of any modern electrical system. They help to protect your home from the potentially catastrophic consequences of an electrical overload. This is a safety feature that is built into every home electrical system and ensures that the circuits are protected from overloading. If a circuit overloads, the breaker will automatically shut off the power and prevent a fire or other serious consequences from occurring.
However, even though every home should have circuit breakers, not every home has the right ones. These components have a limited lifespan, and they can only take so many cycles of opening and closing before they start to wear out. This is why I t is important to have a professional inspect your circuit breakers and recommend replacements if necessary.
Join Our Electrical Savings and Safety Program Today!
Contact us to learn more about what's included with this program and how it can save you money!
Why Your Circuit Breakers May Be Failing
If your circuit breakers are starting to malfunction, it could be for a few reasons. The first and most obvious reason is that your home is close to exceeding the capacity of the circuit. If the circuit is overloaded, the breaker will need to shut off the power, and this will obviously cause it to malfunction.
Another common cause of malfunctioning breakers is corrosion. This is a very common issue in homes that have hard water, since the buildup of corrosion can affect almost every electrical component. Another common cause of corrosion is salt, which is why homes close to the ocean are at greater risk. Both of these issues can be extremely difficult to resolve on your own, which is why you should call us as soon as possible.
Finally, the older your home is, the more likely it is that your circuit breakers are going to malfunction. This is because the components in your electrical system are not designed to last a lifetime, and over time, they will start to wear out. You may still be able to get a few years of service out of your breakers, but eventually, you will probably need to have them replaced.
When to Call a Professional for a Circuit Breaker Service
If you are concerned about the safety of your home, contact our team at Trout Electric for circuit breaker installation in Riverside. We have a team of highly trained and experienced electricians who can ensure your home is protected from electrical overloads.
Contact us today to request your circuit breaker service appointment.