GFCI & GFI Outlets in Riverside, CA
Safe Electrical Outlet Installation in Los Angeles, Riverside, Orange & San Bernardino Counties
There are several types of electrical outlets available for use in homes and commercial spaces. One type, known as a GFCI outlet, or GFI outlet, can help to ensure your safety when using electrical appliances and outlets.
GFCI or GFI outlets are designed to help protect you from electrical shocks and electrical fires that can occur from using appliances with damaged or worn cords, or from outlets that are damaged in some way. These outlets have two buttons—one black and one red—and a test button that can help to ensure your safety when using an appliance plugged into the outlet.
GFCI outlets are found in:
Bathrooms
Kitchens
Living rooms
Bedrooms
Hallways
Attic
Basement
Garage
While GFCI outlets are designed to protect you from electrical shocks, GFI outlets are designed to protect you from gas leaks. These outlets are found in areas where gas is present, such as in your kitchen or in your bathroom. These outlets have a button that reads "Gas" and are designed to turn off the electricity to the outlet if gas is detected. These outlets can be found in homes as well as in commercial spaces.
Why Choose Trout Electric?
What Makes Us Different
Certified QMerit Partner

Providing trusted electrification installation solutions that meet the highest standards of safety and service quality.

Rigorous Professional Standards

All Trout employees are held to high standards of personal conduct and ethics.

We Offer Financing Options

We offer a variety of options. Call to learn about the details.

We Offer Emergency Services

Get the immediate help you need, whenever you need it.

Licensed, Insured, & Vetted

We make it easy for you to have confidence in the team you call.

Contact Us Today for a Free Estimate

Talk to our electrical team today during a free estimate.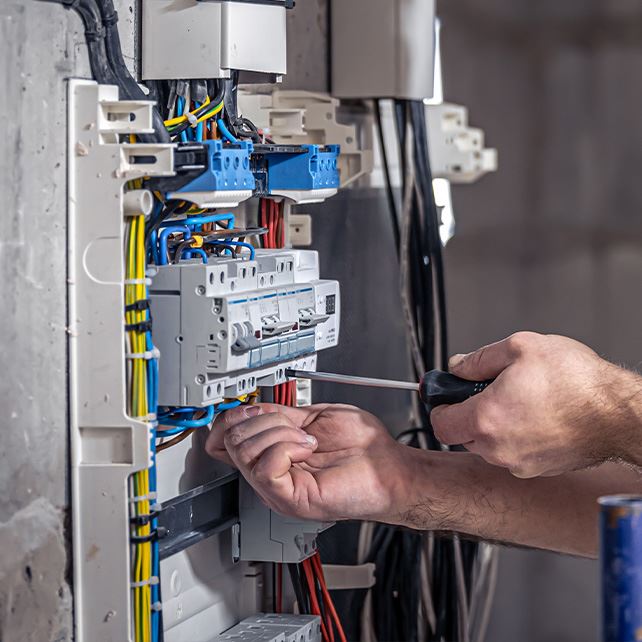 "Excellent EV Charger Install!"

- Rob S.
Why Should You Have GFCI & GFI Outlets Installed?
Having GFCI and GFI outlets installed in your home or commercial space can help to protect you from electrical shocks and electrical fires that can be caused by using damaged appliances or outlets. These outlets can provide protection for you and your loved ones against electrical accidents that could potentially cause serious injury or death.
Having faulty or outdated GFCI or GFI outlets in your home or commercial space can prevent them from working to protect you from an electrical shock or electrical fire. Because these outlets are designed to trip at a very low level of electrical current, they need to be regularly checked and replaced if they are not working correctly. Because our Riverside electricians can routinely check and update your home's GFCI and GFI outlets, you can be sure that you and your loved ones are protected against electrical shock or fire.
When it comes to residential electrical services, including those for GFCI and GFI outlets, you can trust the experts at Trout Electric. We have been providing superior electrical services to our Riverside County community for years, and we take pride in providing the highest quality work with exceptional customer service. We are a family-run business, and our family is our team!
Join Our Electrical Savings and Safety Program Today!
Contact us to learn more about what's included with this program and how it can save you money!
Call an Electrician for GFCI & GFI Outlet Installation
While it is possible to purchase GFCI and GFI outlets and install them on your own, it is important to remember that these outlets require certain wiring that needs to be done properly to protect you from electrical shock and fire. Therefore, we highly recommend that you have an electrician come out and install your GFCI and GFI outlets to ensure your safety.
Call us at (951) 338-9592 or fill out our online form to schedule your service.