Tesla Charging Station in Riverside, CA
Tesla Charging Station Installations & Repairs in Los Angeles, Riverside, Orange & San Bernardino Counties
As a Tesla owner, you need a reliable charging station to accommodate your lifestyle and driving needs. That's why Trout Electric is proud to offer professional Tesla charging station installation and repair services in Riverside. We understand the unique needs of Tesla EV owners and have the expertise and resources necessary to install and maintain Tesla charging stations in homes and businesses. Our licensed and insured electrical service experts provide the highest level of service to ensure your system operates safely and efficiently.
Call Trout Electric at (951) 338-9592 or contact us online to request a free service estimate for any of our Riverside Tesla charging station installations or repairs!
Why Choose Trout Electric?
What Makes Us Different
Certified QMerit Partner

Providing trusted electrification installation solutions that meet the highest standards of safety and service quality.

Rigorous Professional Standards

All Trout employees are held to high standards of personal conduct and ethics.

We Offer Financing Options

We offer a variety of options. Call to learn about the details.

We Offer Emergency Services

Get the immediate help you need, whenever you need it.

Licensed, Insured, & Vetted

We make it easy for you to have confidence in the team you call.

Contact Us Today for a Free Estimate

Talk to our electrical team today during a free estimate.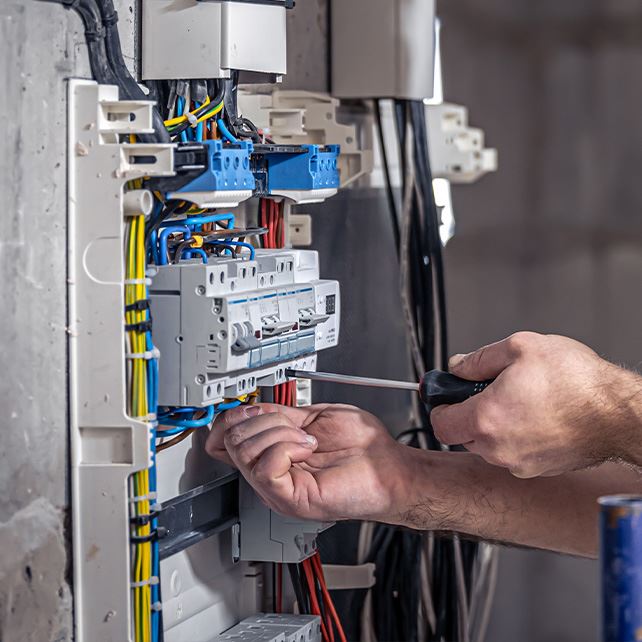 "Great Experience!"

- Serge N.
Installing All Types of Tesla Chargers
Trout Electric is a trusted name in electric installation, and we specialize in installing all types of Tesla chargers. Whether you need a wall connector for your home, a mobile connector for on-the-go charging, or even a Supercharger or destination charging station, Trout Electric can get the job done.
Here's an overview of the different types of Tesla chargers that we can install:
Wall Connectors: These are designed to be installed at your home and provide up to 44 miles of range per hour charged.
Mobile Connectors: These are perfect for on-the-go charging and come with adapters for different outlets. They offer up to 3 miles of range per hour charged.
Superchargers: These are Tesla's fastest charging option, providing up to 200 miles in just 15 minutes of charge.
Destination Charging Stations: These are located at hotels, restaurants, shopping centers, and other convenient locations and provide up to 44 miles of range per hour of charge.
If you're looking to install any type of Tesla charger, look no further than Trout Electric!
Join Our Electrical Savings and Safety Program Today!
Contact us to learn more about what's included with this program and how it can save you money!
Benefits of EV Charging Stations
Having an electric vehicle (EV) charging station installed at your home or business offers many benefits. It provides convenience and eliminates the need for frequent trips to public charging stations. It also ensures that your EV is always ready to go when you need it. Furthermore, by eliminating the use of fossil fuels for transportation, you can significantly reduce your carbon footprint and contribute to a healthier environment.
Additionally, some EV charging stations are eligible for federal, state, and local tax credits, which can help offset the cost of installation. Overall, installing an EV charging station is a smart investment that offers convenience, environmental benefits, and potential cost savings in the long run. Call Trout Electric today to learn more about our Tesla charging station services in Riverside!
Service You Can Trust
As a leading electrician in the area, Trout Electric is proud to be your go-to for EV charging stations. Our licensed and insured technicians adhere to the highest standards for safety and complete all services in accordance with local laws and regulations. We use state-of-the-art tools and technologies when installing and repairing your Tesla charging equipment, ensuring a job done right every time.
Choose Trout Electric because:
We are fully licensed and insured
We have extensive experience working with Tesla charging equipment
We offer free estimates
We offer affordable financing options
Call (951) 338-9592 or contact us online to schedule a professional Tesla charging station service in Riverside.