Electrical Outlet & Switch Services in Riverside, CA
Whole-House Outlet & Switch Installation in Los Angeles, Riverside, Orange & San Bernardino Counties
As homeowners and business owners, we rely on electrical outlets and switches for our everyday tasks. From charging our devices to powering our appliances, electrical outlets and switches are essential components of our homes and offices. However, due to wear and tear, these components may become damaged or start malfunctioning, leading to various safety hazards. This is where Trout Electric comes in.
Trout Electric is a Southern California-based electrical contractor that specializes in electrical services, including repair, maintenance, and installation of electrical outlets and switches. We provide reliable and efficient services, including 24/7 emergency electrical help, that will get the job done right the first time.
Call our team at (951) 338-9592 to schedule your service today.
Why Choose Trout Electric?
What Makes Us Different
Certified QMerit Partner

Providing trusted electrification installation solutions that meet the highest standards of safety and service quality.

Rigorous Professional Standards

All Trout employees are held to high standards of personal conduct and ethics.

We Offer Financing Options

We offer a variety of options. Call to learn about the details.

We Offer Emergency Services

Get the immediate help you need, whenever you need it.

Licensed, Insured, & Vetted

We make it easy for you to have confidence in the team you call.

Contact Us Today for a Free Estimate

Talk to our electrical team today during a free estimate.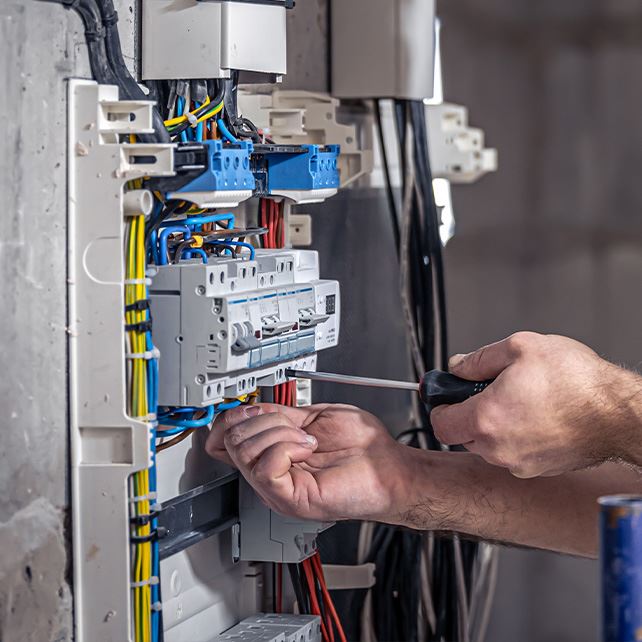 "Excellent EV Charger Install!"

- Rob S.
We Put Safety First
The purpose of an electrical outlet is to distribute power to appliances and equipment that are used on a daily basis. Powering these devices efficiently requires an adequate number of outlets, as well as the correct type of outlet for the device. Wiring and outlets should be installed to code to ensure maximum safety.
If you are lacking outlets where you need them, Trout Electric can help. We install all types of outlets, including USB, GFCI and GFI outlets, appliance outlets, and more. Electrical work can be dangerous and could cause harm if not handled properly. Trout Electric has a team of licensed, experienced, and knowledgeable electricians who can install and repair electrical outlets and switches safely and efficiently. Trying to fix your outlets or switches yourself could result in injury or damage to your property. Trust the experts at Trout Electric to get the job done right.
Join Our Electrical Savings and Safety Program Today!
Contact us to learn more about what's included with this program and how it can save you money!
Warning Signs That You Need Outlet or Switch Repairs
Home and business owners should always be on the lookout for warning signs to avoid potential danger. Here are some signs that may indicate it's time to call Trout Electric for repairs:
Flickering lights: Do you notice your lights flickering or dimming randomly? This could be a sign that there is a problem with your electrical circuit or switches.
Burning smells from outlets: A burning smell from an outlet is a clear indication that there is an electrical problem. If you smell something burning, turn off the electricity and call Trout Electric immediately.
Electric outlets or switches that don't work anymore: Non-functioning electrical outlets or switches may indicate there is an issue with the wiring or circuit. Don't ignore these signs as they could lead to short circuits and other electrical hazards.
Call Us Today to Schedule a Service
Electrical outlet installation is part of our electrical services. If you have purchased a new appliance and need the outlet moved or need more outlets installed, we can help. If you have an older home, we can add the latest and greatest outlets that will help you power your devices without needing to buy an expensive power surge protector.
Book your service online or by calling us directly at (951) 338-9592 today.