Battery Installation & Repair in Riverside
Imagine a system that lets you:
Buy cheap energy, store it, and use it when grid rates are high.
Power your home when the grid is down.
Run your home on stored solar energy at night.
Sell excess energy to the power company.
That system is an integrated battery. It does these things and more.
Trout & QMerit
Trout Electric has partnered with Qmerit, the preferred provider for green energy companies and all major electric vehicle (EV) manufacturers. As the gold standard in the electrical service industry, Qmerit accepts only the best companies as partners.
Contact us today to learn how Trout and Qmerit can save you money and reduce your carbon footprint.
Why Choose Trout Electric?
What Makes Us Different
Certified QMerit Partner

Providing trusted electrification installation solutions that meet the highest standards of safety and service quality.

Rigorous Professional Standards

All Trout employees are held to high standards of personal conduct and ethics.

We Offer Financing Options

We offer a variety of options. Call to learn about the details.

We Offer Emergency Services

Get the immediate help you need, whenever you need it.

Licensed, Insured, & Vetted

We make it easy for you to have confidence in the team you call.

Contact Us Today for a Free Estimate

Talk to our electrical team today during a free estimate.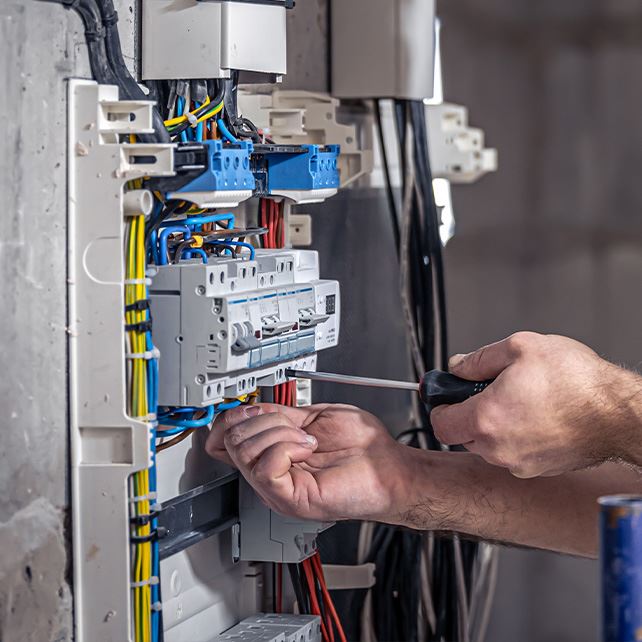 "Great Experience!"

- Serge N.
Battery Installation
Installing a battery is a job for an experienced and qualified electrician. We may run new wiring or modify existing circuits depending on your setup. Installation requires knowledge of the latest regulations and codes regarding battery-powered backup systems.
Trout is a Qmerit-certified installer, ensuring that we'll install your battery system to the highest safety and efficiency standards.
Trout installs all brands, sizes, and types of battery systems, including the Tesla Powerwall. Tesla is the most requested and coveted battery brand. Benefits include:
Long lifespan: The Tesla Powerwall has a projected lifespan of over 20 years, making it a reliable long-term solution for energy storage.
Easy installation: The Powerwall is easy to install and integrate with an existing electrical system.
Safe and reliable: Advanced safety features and alerts help you monitor your system and protect against power outages.
Scalable: The Powerwall is available in different sizes; modules can be added as your energy needs increase.
Join Our Electrical Savings and Safety Program Today!
Contact us to learn more about what's included with this program and how it can save you money!
What Is a Battery system?
A battery system is an integrated system consisting of:
Rechargeable lithium-ion batteries
An inverter to convert stored DC energy into usable AC
The software to manage it.
It stores energy from the grid or a renewable source and releases it on demand. Most battery systems are Wi-Fi capable and can be monitored and controlled from an app for optimal energy savings. Essentially, it's a big ol' smart battery. Very smart.
Benefits of a Battery System
It reduces electricity bills.
It provides backup power in case of grid failure.
It eliminates the need for noisy and polluting backup generators.
It lets you participate in net metering programs (details to come).
It stores solar energy for use at night or during bad weather.
It monitors energy use with intelligent systems.
It helps to reduce greenhouse gas emissions.
A quality battery system provides 12 to 15 hours of energy for an average home. It will last up to 20 years before needing replacement — or about twice as long as your dryer.
Net Metering
A battery system stores solar and cheap grid energy, which can help you take advantage of power companies' network metering programs. Net metering lets you send excess energy back into the grid during peak demand times to sell power to the power company at premium rates! The "sale" appears as a credit on your power bill.
Why Trout Electric?
We guarantee your satisfaction.
We guarantee all work, parts and labor.
We've been in business since 1999.
We have an A+ rating with the Better Business Bureau.
We've installed thousands of EV charging stations in Southern California.
We're qualified to perform any electrical job, home or commercial.
We're local to Southern California, and stock parts locally in our warehouse.
We guarantee our pricing — the price we quote will be the price on your bill, and not a penny more.
We offer 24/7 emergency services for those times the job can't wait.
All estimates are free, whether or not we perform the job for you.
We offer financing to qualified customers who request it.
We'll perform the job to the highest standards as all of our electricians besides having all the required state and local certifications also have to pass our rigorous testing and training program before they can be called a Trout Electrician. Contact us today at (951) 338-9592 to schedule your professional service.