We are EVITP Certified!
Certified by the Electric Vehicle Infrastructure Training Program to providing electric vehicle supply equipment installation with the highest standards of safety and quality!
EV Charging Station Installation & Repair in Riverside, CA
One of the First Certified Electric Vehicle Installers in America!
Welcome to Trout Electric, your trusted partner for EV charging station installation services in Riverside. We have over two decades of experience, offer 24/7 emergency services, offer flexible financing, and have an A+ rating with the Better Business Bureau. Our team of qualified electricians provide exceptional service and ensure your EV charging needs are met with precision.
Trout Electric has installed thousands of residential and commercial home charging stations in Orange, Riverside, Los Angeles, and San Bernardino Counties for every make and model of electric vehicle.
As one of the first companies in America to be certified to install home electric vehicle (EV) chargers, we helped pioneer the home charging station revolution.
Get a quote by remote! Answer a few questions on our EV charging estimate form, upload photos or a video, and with that information we'll email an installation quote to you. No on-site visit required!
We can install Level 1 and 2 EV chargers in your home, and commercial level 3 chargers where cities permit, including charging ports compatible with Tesla, Audi, BMW, Honda, Toyota, Mercedes, Nissan, Volkswagen, and more.
We also sell EV chargers for every electric vehicle type and brand.
Trout is Qmerit certified and Tesla authorized.
We repair malfunctioning EV chargers, including commercial level 3 chargers, which need regular maintenance.
All estimates are FREE, regardless of work performed (or not performed).
We accept all major credit cards. Financing is available to qualified customers.
Ask about our senior and military discounts.
What are the Benefits of Installing an EV Charging Station in Your Home?
Installing an EV charging station at your Riverside, CA home offers convenience by allowing you to charge your electric vehicle there, avoiding the hassle of public stations. It can save you money with lower electricity rates during off-peak hours. Additionally, you'll always start each day with a full charge, eliminating the need to find a charging station during your daily commute. Overall, it provides convenience, potential cost savings, and peace of mind for your EV charging needs.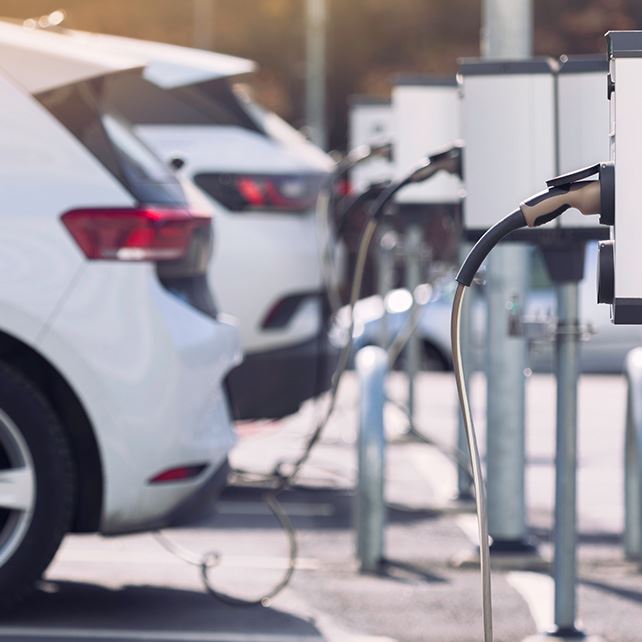 Qmerit Certified EV Charging Installer
Qmerit-certified installers are:
Properly licensed, fully insured, and thoroughly background-checked.
Compliant with all applicable worker's compensation guidelines.
Required to secure permits to verify that installations meet local building codes.
Teamed with industry experts for training on the latest technologies.
Types of EV Charging Stations We Install & Maintain
Level 1 EV Charging Stations: Level 1 charging, or "overnight charging," connects to a normal 120 volt outlet. Level 1 charging stations are the most affordable and easiest to install, but some electric cars need up to 20 hours on a Level 1 charger for a complete battery recharge. Overnight chargers are best for light vehicle use. If you commute a long distance to work in your electric car, or if you combine daytime commuting with evening errands or driving for pleasure, you may find a level 1 charger too slow for your schedule and activities.
Level 2 EV Charging Stations: Level 2 chargers can charge your electric vehicle's battery in as little as 3 hours (charging times vary according to the make of your EV). Some Southern California cities offer rebates for these fast charging stations, so while they're more expensive than level 1 chargers in the short run, in the long term, level 2 chargers are the best choice for most EV car owners, especially when they factor in rebates and the convenience of much faster charging times. By law, level 2 chargers must be installed by an experienced, licensed electrician, because improper installation can result in a fire hazard or electric shock danger. In Southern California, no one has more experience and a better track record of level 2 charger installation than Trout Electric.
Level 3 EV Charging Stations: Level 3 chargers are the fastest chargers available, and can charge an electric car in 30 minutes to an hour. These charging stations are not intended for home use, and are installed only in commercial or industrial settings. You can find level 3 chargers in municipal parking lots, government facilities, or outside business parks.
Other Electric Vehicle Charging Services We Offer
EV Charging Station Maintenance & Repair: Commercial Level 3 EV charging stations need regular maintenance and calibration. Trout performs this service for cities and businesses; in addition, we can repair, replace, or upgrade any charging station that's defective or out of date. While it's less common for home EV charging stations to develop problems, we can repair or replace any Level 2 charging unit that's malfunctioning or simply too old to give you the fastest, most reliable charging.
Tesla Charging Stations: Trout can install any EV charging station, commercial or residential, regardless of electric vehicle make and model. But the bulk of our work by far comes from Tesla, which often refers its customers to Trout directly and has worked with Trout for many years. Trout Electric is on a short list of preferred Tesla EV charging station installers.

EV Charging Services
How We Can Help You
When you trust Trout Electric, you can know the job will be done right the first time.
Preferred Charging Station Vendor & Installer for Tesla
Contact us using our online form or give us a call at

(951) 338-9592

to schedule your install today!
Which Electric Vehicles Does Trout Support?
Tesla
Mercedes
Hyundai
Porsche
Volkswagen
Audi
BMW
Nissan
Fiat
Volvo
Ford
Jeep
Chrysler
Chevrolet
And any other electric vehicle that needs charging!
We sell, install, service, and repair chargers for all electric vehicle makes and models.
Hear From Our Happy customers
Reviews & Testimonials
At Trout Electric, your satisfaction is our priority! See for yourself what people have to say about working with us.
"Great Experience!"

Competitive pricing, on time, knowledgeable, available 24-hour response for emergencies, and most importantly honest owner who stands behind his work.

- Serge N.

"My Go-To Electrician"

Great work, no issues. If I have any other electrical needs, my go-to is Trout.

- Michelle H.

"Excellent EV Charger Install!"

Friendly, professional, and amazing work, what more could you want?

- Rob S.
Choosing the Right EV Charging Station for You
Miles You Drive Per Day: How many miles do you drive daily? Do you commute 10 miles each way to work or 40? And do you drive your car after work to soccer practice, to run errands, or to visit friends in the area? The distance you drive, the range of your car, and the estimated charging time of your EV should factor into your decision.
Electric Vehicle Mileage Range: How far can you drive on a single charge? Some cars may need to be charged nightly, while newer Tesla models may be able to operate up to a week without recharging.
Time It Takes to Charge: Charging times vary by make and model of EV; some cars may not charge completely overnight on a level 1 charger. Depending on the car you drive and the demands you place on it, a level 2 charger may be your only realistic option.
Other Charging Locations: If you have level 3 charging available at your place of work, and you don't drive much on weekends, a level 1 charger may be all you need at home. The time it takes to charge your car at home becomes less of an issue. But if you're a frequent driver, Level 2 may be for you.
How You Use Your Vehicle: Is your EV strictly a commuter car, or do you plan to use it "whenever," just like a gas-powered car? The average Californian drives just under 40 miles per day. In ordinary circumstances, a level 1 charger would be adequate, but on those occasions where you plan to meet someone after work and do something special, you may not have time to plug your car into the grid and wait overnight.
Your Electrical Infrastructure: Safety first and foremost! We test your home's load tolerance to determine the type of charger your electrical system can support. Every city requires a load calculation before a home charging station can be installed.
Why Trout Electric?
Join Our Electrical Savings and Safety Program Today!
Contact us to learn more about what's included with this program and how it can save you money!