Electricians in San Bernadino, CA
Available Financing
At Trout Electric, we take pride in getting the job done right the first time with experienced professionals dedicated to our community. Your electrical system keeps you comfortable and connected to customers. As your one-stop shop for any long-lasting electrical services in San Bernadino, CA, your home or business may need, we're here for you 24/7. Whether it's a common repair or a complete system renovation, we provide service you can trust.
Don't delay! Call us to speak to a member of our team (951) 338-9592 when you are ready to schedule a free estimate.
Why Choose Trout Electric?
What Makes Us Different
Serving Riverside, CA Since 2008
Certified QMerit Partner

Providing trusted electrification installation solutions that meet the highest standards of safety and service quality.

Rigorous Professional Standards

All Trout employees are held to high standards of personal conduct and ethics.

We Offer Financing Options

We offer a variety of options. Call to learn about the details.

We Offer Emergency Services

Get the immediate help you need, whenever you need it.

Licensed, Insured, & Vetted

We make it easy for you to have confidence in the team you call.

Contact Us Today for a Free Estimate

Talk to our electrical team today during a free estimate.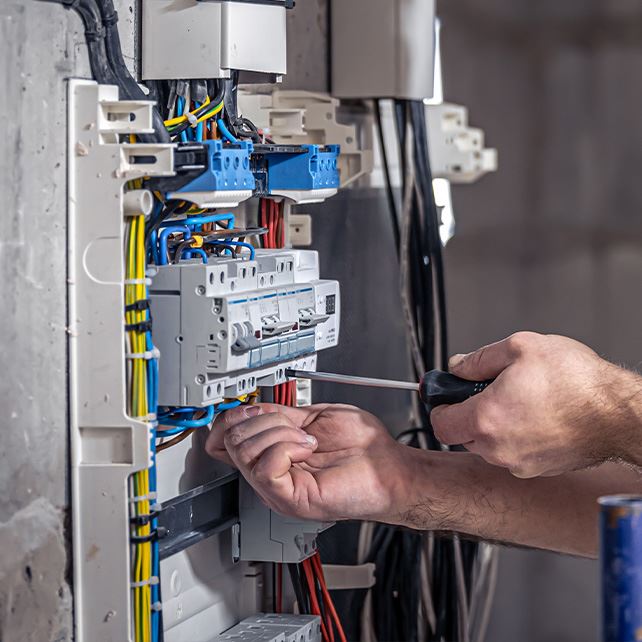 "Excellent EV Charger Install!"

- Rob S.
Our Electrical Solutions
If your home or business is struggling with outdated components or is looking to stay up-to-date on technological advances, we're here to help with these services:
Keeping our community comfortable and safe is our top priority. Preventative measures like electrical inspections, fire alarm services, and generator services are all great ways to ensure your system is up to date on safety regulations while preparing in case of an emergency. Even with these steps, you can't predict or avoid every breakdown. Our thorough electricians in San Bernadino are here 24/7 as the best troubleshooters in the industry to help return electricity to your home or business as quickly as possible.
Suppose you're preparing to upgrade your home or commercial property with EV chargers, a pool, a hot tub, or smart-home integration. In that case, you may need a panel upgrade, rewiring, or GFCI outlet installation. Anytime you begin to renovate your space, don't forget the systems behind your walls when it's easy to focus on aesthetics. Updating your electrical components during a renovation can offer circuit reconfiguration, more outlets, and increased safety. Trout Electric is here for you whenever your home or commercial property needs trustworthy service.
Join Our Electrical Savings and Safety Program Today!
Contact us to learn more about what's included with this program and how it can save you money!
EV Charging FAQs
Electric vehicle charging is a relatively new addition to many homes and businesses, so it's understandable that you have questions before installation.
As industry pioneers, we've addressed these common concerns:
How can I reduce installation costs?
Multiple state and federal tax credits and rebates are available for up to 30% of installation costs, including equipment, installation, and infrastructure upgrades. This significant investment will help you save in the long run by reducing charging costs and attracting new customers.
Can I customize the charging station to my needs?
Yes! Trout Electric is dedicated to creating a charging station original to your home or business. We'll consider how many cars you need to charge, your current electrical system, and your aesthetic preferences for a personalized design.
How often should I charge my EV?
This entirely depends on how far your commute is, your other daily requirements, and the level of the charger. We recommend you keep your vehicle at 20-80% charged for battery health and use a level two charger at home for efficient charging. We recommend a level three charger for large commercial properties to serve as many customers as possible.
As bilingual professionals with over 15 years of experience, there's no one else to go to when you need electrical services in San Bernadino you can trust. Don't hesitate to ask if you have more questions about EV charging or any of our other services.
Don't deal with faulty electrical! Schedule your free estimate by calling us at (951) 338-9592 or filling out our online contact form.