Smoke Detector Services in Riverside, CA
Smoke Detector Installation in Los Angeles, Riverside, Orange & San Bernardino Counties
Although smoke detectors are relatively simple devices, it is important to ensure they are installed correctly to ensure they function when needed. At Trout Electric, we have been installing smoke detectors in homes and businesses throughout Greater Los Angeles for years. Our experienced, licensed electricians will properly install your smoke detectors and make sure they are working correctly.
Call us today at (951) 338-9592 for reliable, professional smoke detector services.
Why Choose Trout Electric?
What Makes Us Different
Certified QMerit Partner

Providing trusted electrification installation solutions that meet the highest standards of safety and service quality.

Rigorous Professional Standards

All Trout employees are held to high standards of personal conduct and ethics.

We Offer Financing Options

We offer a variety of options. Call to learn about the details.

We Offer Emergency Services

Get the immediate help you need, whenever you need it.

Licensed, Insured, & Vetted

We make it easy for you to have confidence in the team you call.

Contact Us Today for a Free Estimate

Talk to our electrical team today during a free estimate.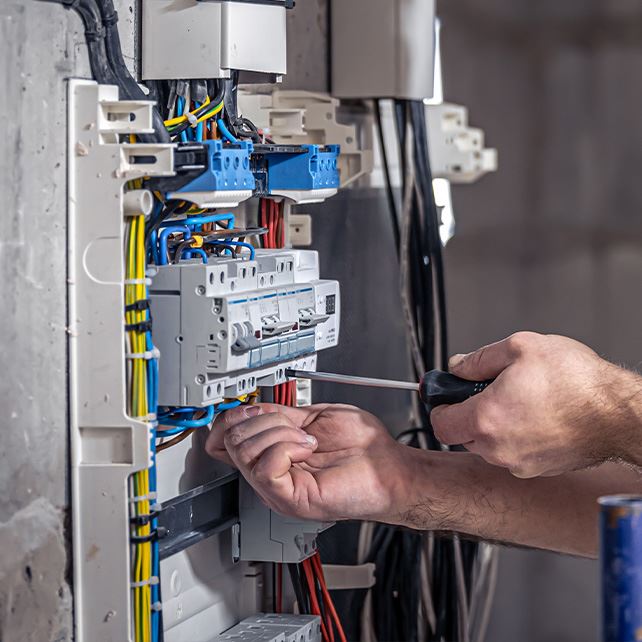 "Excellent EV Charger Install!"

- Rob S.
Why Are Smoke Detectors Important?
Although smoke detectors are not the most exciting appliance to install in your home, they are an important part of home safety. According to the US Department of Housing and Urban Development, smoke detectors cut home fire deaths nearly in half, saving over 25,000 lives each year. It is important to take the time to install smoke detectors correctly to ensure they are effective in saving lives in the event of a fire.
Join Our Electrical Savings and Safety Program Today!
Contact us to learn more about what's included with this program and how it can save you money!
Types of Smoke Detectors
There are several different types of smoke detectors, each designed to detect a different type of smoke. The type of detector you install depends on where you are installing it. The most common type of detector is the single-detector model, which is designed to detect smoke in a single room. If you are installing smoke detectors in multiple rooms, you may want to consider the combination model, which combines smoke detectors for each room. Another type of detector is designed to detect smoke in larger spaces, such as a whole floor of a building. Finally, some detectors are designed to only detect smoke in a specific area, such as a basement or garage.
The type of smoke detector you should install depends on:
The area being installed
The type of construction of the building
The area being protected
It is important to take the time to consider the type of smoke detector that is best suited for the area you are protecting before you begin the installation process. Speak to our knowledgeable, experienced electricians at Trout Electric if you are unsure which smoke detector is best for your home or business.
For your smoke detector service, call us at (951) 338-9592 or complete our online form.