Electrical Inspections in Riverside, CA
We Inspect Electrical Systems for Safety & Efficiency in Los Angeles, Riverside, Orange & San Bernardino Counties
Many property owners in Riverside County assume that if there are no obvious problems with their electrical system, then everything must be fine. While it is true that proactive maintenance can help keep your electrical system in tip-top shape, there are some problems that are not visible to the naked eye. At Trout Electric, we offer electrical inspections for residential and commercial properties, and our expert electricians can identify potential hazards before they turn into a serious issue.
Call us at (951) 338-9592 or fill out our online form for a comprehensive electrical inspection.
Why Choose Trout Electric?
What Makes Us Different
Certified QMerit Partner

Providing trusted electrification installation solutions that meet the highest standards of safety and service quality.

Rigorous Professional Standards

All Trout employees are held to high standards of personal conduct and ethics.

We Offer Financing Options

We offer a variety of options. Call to learn about the details.

We Offer Emergency Services

Get the immediate help you need, whenever you need it.

Licensed, Insured, & Vetted

We make it easy for you to have confidence in the team you call.

Contact Us Today for a Free Estimate

Talk to our electrical team today during a free estimate.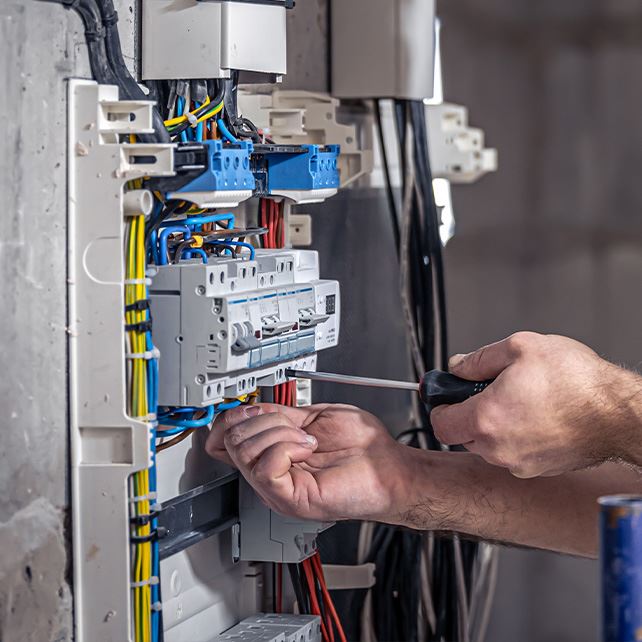 "Great Experience!"

- Serge N.
How Do Electrical Inspections Work?
Electrical inspections differ from general inspections for construction projects in that they are designed to evaluate the current status of your electrical system, rather than determining what needs to be done to finish a current project. If you are planning to sell your home or property soon, then a general construction inspection may be more helpful, since it will identify whether upgrades are needed to make the property more desirable. An electrical inspection, on the other hand, can help identify problems that may not be visible to a casual observer, and can help ensure that your electrical system is safe and efficient.
Electrical inspections typically include an inspection of:
The main electrical panel
All outlets and switches
All light fixtures
All security lights and systems
All environmental controls, such as air conditioning controls
During the inspection, our experienced electricians will thoroughly look at every aspect of your electrical system, from the main electrical panel to the smallest outlets in your home. If any problems are found, we will provide you with a detailed report so that you will know the current status of your electrical system. We will work with you to identify the best solution for addressing any problems that are found, whether it involves repairing a specific component or replacing an aging or defective system completely.
Join Our Electrical Savings and Safety Program Today!
Contact us to learn more about what's included with this program and how it can save you money!
Why Is an Electrical Inspection Important?
It may seem like an electrical inspection is unnecessary unless you are selling your property, but this isn't the case. An electrical inspection can help identify potential problems that may not be visible to a casual observer and can help ensure that your family is living in a safe environment.
Some of the most common problems that are found during electrical inspections include:
Damaged components: Electrical components like breakers, outlets, switches, and dimmers can wear out over time, and components that are damaged or corroded will need to be replaced.
Loose connections: Any electrical system will have a number of wires and connections, and these can get loose over time. If a connection is loose, electricity may arc, creating a serious fire hazard. Our electricians will identify and repair any loose connections.
Insufficient capacity: Your main electrical panel is the heart of your electrical system, controlling and regulating the flow of electricity to your entire home. If your system is over 50 years old or was not built to withstand the current demanded by modern appliances, appliances, and lighting, your panel may not be able to provide enough power. We can upgrade your panel and wiring to provide you with the electricity you need.
Old, outdated systems: Electrical systems from the 1960s, 1970s, and 1980s often use outdated components and systems, and may not be able to handle the power demands of modern homes. If your system is more than 30 years old, we recommend upgrading your system to make it safer and more efficient.
Excessive electrical loads: If your home has a problem running multiple appliances at once, or you are experiencing brown outs, we can identify and repair the problem quickly, helping prevent potential electrical fires and other hazards.
Schedule Your Service Today
Electrical problems can be difficult to identify, which is why it is important to hire a professional electrician for your inspection. At Trout Electric, our expert electricians can identify potential problems and work with you to develop a plan for addressing them, whether that means repairing a specific component or upgrading your system completely.
For help with your electrical inspection in Riverside, call us at (951) 338-9592.