Electricians in Ontario, CA
Residential & Commercial Electrical Services
Trout Electric is the team to count on when you need a one-stop shop to maintain, repair, or replace your electrical components. We've spent 15 years serving our communities when they need bilingual professionals, same-day services, or emergency solutions. With a knowledgeable team and fully stocked trucks, our electricians in Ontario, CA, are the best troubleshooters in the industry, so our customers can return to comfort quickly.
We want to help your home or business thrive with an EV charger! Call us today at (951) 338-9592 or fill out our online contact form to schedule a free estimate.
Why Choose Trout Electric?
What Makes Us Different
Serving Riverside, CA Since 2008
Certified QMerit Partner

Providing trusted electrification installation solutions that meet the highest standards of safety and service quality.

Rigorous Professional Standards

All Trout employees are held to high standards of personal conduct and ethics.

We Offer Financing Options

We offer a variety of options. Call to learn about the details.

We Offer Emergency Services

Get the immediate help you need, whenever you need it.

Licensed, Insured, & Vetted

We make it easy for you to have confidence in the team you call.

Contact Us Today for a Free Estimate

Talk to our electrical team today during a free estimate.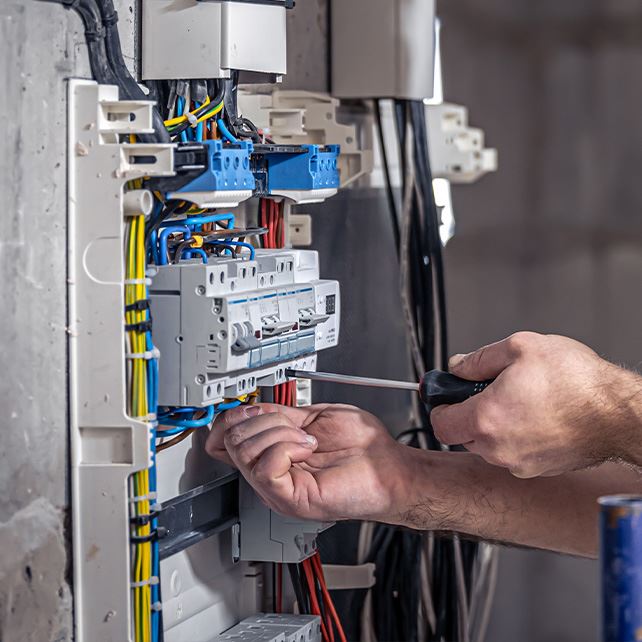 "My Go-To Electrician"

- Michelle H.
EV Charging Levels
There are three levels of EV charging. We recommend level one or two for residential use and level three for commercial applications.
Here are the specifications of each charging level:
Level one: This charger may be included with your EV purchase and can be wired with a standard wall outlet. However, as the lowest level, it only replenishes 3-5 miles per hour.
Level two: A level two charger adds a new circuit to your electrical panel to replenish 12-80 miles per hour for efficient at-home charging or smaller commercial applications.
Level three: Using DC current makes the level three charge 3-20 miles per minute. However, this change in current can have a high upfront cost. For commercial applications, this level can ensure you serve as many cars as possible with fewer charging stations.
Though any of these chargers seem like a significant investment, the costs can often be offset with federal and state tax credits or rebates. You also save money over time by charging at home during cheaper electrical periods like overnight and on weekends. Our expert electricians in Ontario can help you choose which level charger will meet your needs and how to reduce upfront costs.
Join Our Electrical Savings and Safety Program Today!
Contact us to learn more about what's included with this program and how it can save you money!
24/7 Emergency Repairs
When disaster strikes, it's essential that you're prepared in case of rolling blackouts. Taking the preventative step to install a generator now can help keep your family or customers safe during California's extreme summers. However, even the most prepared homes and businesses can't prevent every breakdown.
Trout Electric is here for you whenever you need us with 24-hour solutions. Common electrical emergencies include sparking or overheating components, a burning smell, or any other electrical problem that makes you feel unsafe. Let us help you stay connected, so you're informed about evacuation requirements and weather updates.
Is It Time to Upgrade My Electrical?
Of course, you want your electrical system to be 100% all the time, but you don't want to make unnecessary upgrades if your components are still strong.
If your system is struggling with these issues, it may be time to upgrade:
It's 25+ years old
Lights dim when other appliances are used
You're constantly using extension cords
The electrical panel is warm to the touch
As technology continues to improve, many older properties struggle to manage these requirements because of their outdated infrastructure. If you're concerned about the safety or efficiency of the current system, typical upgrades include smart-home integration, ceiling fans, panel upgrades, and GFCI outlets. Trout Electric's team provides the long-lasting electrical services in Ontario that your home or business needs to stay up-to-date and reliable.
For electrical solutions, small and large, call us today at (951) 338-9592 or fill out our online contact form.