Commercial Electrical Services in Riverside, CA
Electrical Services for Business Properties in Los Angeles, Riverside, Orange & San Bernardino Counties
Trout Electric offers complete electrical services to businesses large and small in Riverside. When your electrical system breaks, your business may hang in the balance. Certainly, your comfort and convenience are at risk. Our licensed electricians can respond to your call at any time of day or night, weekdays and weekends alike. Our consistent 5-star reviews are a clear signal that not only do we fix problems fast, but we also do the work safely and at a fair price.
Our business property owners choose us time and again because:
Technicians are on call 24 hours a day, 7 days a week.
We can respond to any commercial electrical emergency or repair.
All work is warrantied for at least one year.
We're fully licensed and insured.
We guarantee we'll do the job right and to your complete satisfaction.
We'll do what's best for your business and offer a recommendation that makes the most business sense for you.
To schedule your electrical service, call us at (951) 338-9592 or fill out our online form.
Why Choose Trout Electric?
What Makes Us Different
Certified QMerit Partner

Providing trusted electrification installation solutions that meet the highest standards of safety and service quality.

Rigorous Professional Standards

All Trout employees are held to high standards of personal conduct and ethics.

We Offer Financing Options

We offer a variety of options. Call to learn about the details.

We Offer Emergency Services

Get the immediate help you need, whenever you need it.

Licensed, Insured, & Vetted

We make it easy for you to have confidence in the team you call.

Contact Us Today for a Free Estimate

Talk to our electrical team today during a free estimate.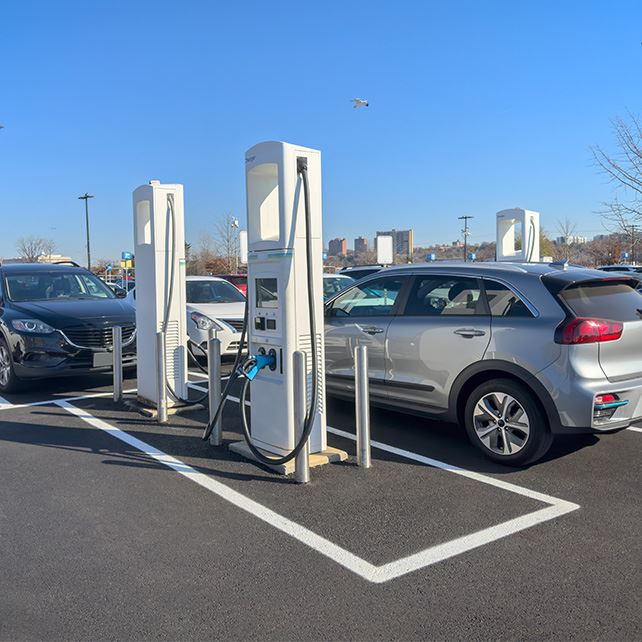 "My Go-To Electrician"

- Michelle H.
Electrical Panels, Circuit Breakers & Fuses
Even older electrical panels can be repaired in many cases. They may simply need a new circuit breaker or fuses, in which case, we'll make the right recommendation and repair to fit your needs and budget.
But if the panel should be upgraded to handle the higher loads of your commercial space, we'll replace the old panel for you quickly, safely, and at a guaranteed fair price. Since we stock our own local warehouse, you won't have to wait for the right parts to arrive.
Level 3 EV Charging Stations
As one of the first certified EV charging installers in Southern California, Trout Electric helped pioneer the electric car revolution. Over the years, we've installed and repaired thousands of EV charging stations. We're recognized by car dealerships across Southern California as one of the most reliable EV charger installers.
Outlets & Switches
Today, electrical outlets and switches are evolving almost as fast as smart phones! You may want to install smart outlets for your new smart office, 3-way switches and dimmer switches that give you more control over the lighting ambiance of your work area or studio space, or switches that can be programmed to work with various assistants and apps.
Join Our Electrical Savings and Safety Program Today!
Contact us to learn more about what's included with this program and how it can save you money!
Interior & Exterior Lighting
New lights can make all the difference in a business environment, creating a much more pleasant atmosphere and saving you a tidy sum on future electric bills. Trout Electric has installed every kind of lighting system imaginable, including drop ceiling lights, energy-efficient industrial fixtures, warehouse lights, kitchen lights, and outdoor security lighting.
Electrical Rewiring
Older businesses may have been wired with aluminum, using a knob and tube wiring method, or strung with lighter wire that can't handle higher AMPs. This becomes a real problem as you add new appliances and devices because limited outlets in your commercial space are inadequate to power all your workstations and important equipment. Trout Electric can upgrade your wiring to make it much safer, prevent the grid from overloading, and to equip your business for the greater demands that come with running a modern business.
24/7 Emergency Electrical Repairs
When your electrical system shuts down, it will likely shut down your entire business. Trout Electric performs most electrical repairs, maintenance, enhancements, and upgrades during regular business hours, but keeps a "SWAT team" of electricians on call for emergencies. We'll respond to any relevant electrical emergency in our service area, rain or shine, day or night.
For more information about how we can help with your electrical needs, call us at (951) 338-9592 or complete our online contact form.