Electricians in Redlands, CA
Our team has over 15 years of experience doing what we do best; taking care of our community when they need electrical service they can trust. Trout Electric was one of the first to install and service EV charging stations because we believe in working towards an eco-friendly future. Your home or business can catapult into updated technology like EV chargers or smart-home integration by trusting our dependable electricians in Redlands, CA.
Don't delay! Trout Electric is here to help. Call (951) 338-9592 when you are ready to schedule a free estimate.
Areas We ServeTitleFont|fnt_t-5 fnt_tc-5SubTitleSubTitleFont|fnt_t-5 fnt_tc-5Description|Trout Electric is proud to serve Riverside, California and other surrounding areasDescriptionFontListClassList|spl-lst pd_h pd_v-30ListMarginTop|mrg_tp-0@@
This is your SubTitle
This is your Description text. Commonly used to call something out.
Why Choose Trout Electric?
What Makes Us Different
Serving Riverside, CA Since 2008
Certified QMerit Partner

Providing trusted electrification installation solutions that meet the highest standards of safety and service quality.

Rigorous Professional Standards

All Trout employees are held to high standards of personal conduct and ethics.

We Offer Financing Options

We offer a variety of options. Call to learn about the details.

We Offer Emergency Services

Get the immediate help you need, whenever you need it.

Licensed, Insured, & Vetted

We make it easy for you to have confidence in the team you call.

Contact Us Today for a Free Estimate

Talk to our electrical team today during a free estimate.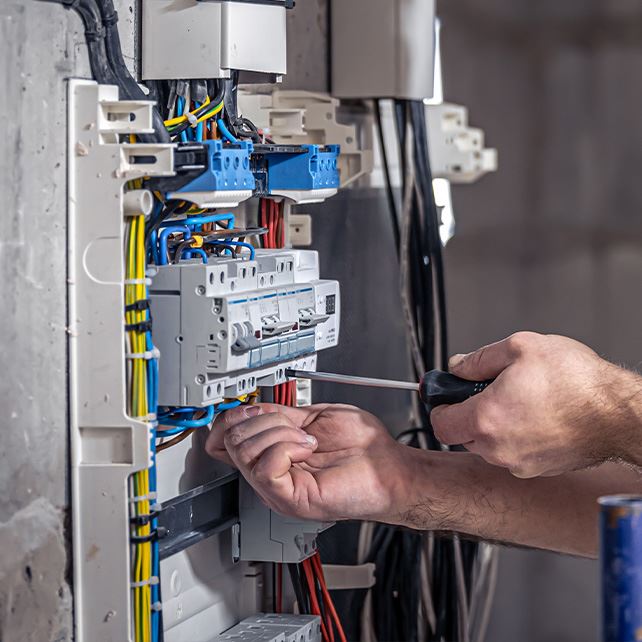 "Excellent EV Charger Install!"

- Rob S.
Our Electric Services
We work hard to get the job done right the first time as expert troubleshooters with fully stocked trucks and 24/7 availability.
We offer these services for your home or business:
Join Our Electrical Savings and Safety Program Today!
Contact us to learn more about what's included with this program and how it can save you money!
EV Charging Pioneers
No matter what your home or business needs to succeed, Trout Electric is here to help. With same-day appointments and 24/7 availability, we are your one-stop shop for electrical solutions.
Don't wait for an emergency to realize you need updated electrical components! Call us now at (951) 338-9592 for a free estimate.