Electricians in Corona, CA
24-Hour Electrical Repairs
Trout Electric has been here for our communities since 2008, and on the cusp of new technology like EV chargers, we were some of the pioneers. Our electricians in Corona, CA, provide service you can trust with 24/7 emergency solutions and residential or commercial electrical services. Don't face everyday issues with your system, like flickering lights or overheating alone, when we're here for you with thorough and personalized options based on your home or business's needs. Trust the professionals that have served thousands of customers at Trout Electric.
Let us improve the safety and reliability of your electrical system. Call us today at (951) 338-9592 for a free estimate!
Why Choose Trout Electric?
What Makes Us Different
Serving Riverside, CA Since 2008
Certified QMerit Partner

Providing trusted electrification installation solutions that meet the highest standards of safety and service quality.

Rigorous Professional Standards

All Trout employees are held to high standards of personal conduct and ethics.

We Offer Financing Options

We offer a variety of options. Call to learn about the details.

We Offer Emergency Services

Get the immediate help you need, whenever you need it.

Licensed, Insured, & Vetted

We make it easy for you to have confidence in the team you call.

Contact Us Today for a Free Estimate

Talk to our electrical team today during a free estimate.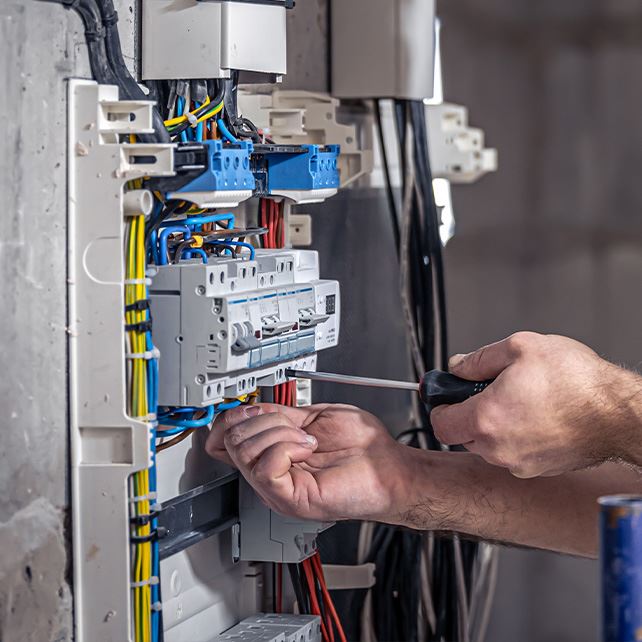 "My Go-To Electrician"

- Michelle H.
EV Charging Services
As one of the first companies to provide EV charger installation, it's important to us that we offer a holistic approach. It doesn't matter what kind of electric vehicle you drive, as we can provide the necessary level one or two chargers for fast charging at home.
Benefits of at-home charging include:
Increased safety
Convenience
Cost savings
By charging at home, you can use energy during cheaper electrical periods like overnight or on weekends. This also may keep your car out of poor weather while providing you more time at home with your family.
For commercial applications, we can install level three chargers for these advantages:
Increased charging capabilities
Personalized design
Attract new customers
Our reliable electricians in Corona create a personalized charger design depending on how many vehicles you need to service and how much time customers will spend at your location. Level three is the fastest available EV charger allowing your business to serve as many customers as possible without making them feel stuck at your location. Adding EV chargers to your commercial space is a great way to attract new customers and employees who value technological upgrades and eco-friendly solutions.
Join Our Electrical Savings and Safety Program Today!
Contact us to learn more about what's included with this program and how it can save you money!
24/7 Emergency Repairs
The Trout Electric team is here to provide around-the-clock emergency electrical repairs in residential or commercial applications. If there's any situation where you feel unsafe because of sparks, overheating components, or waterlogged outlets, we're here for you. During extreme weather, electricity can be necessary to maintain safe temperatures inside or stay connected to evacuation requirements.
We're here for you in an emergency, no matter when you need us. However, installing a generator now can prevent a stressful loss of electricity from becoming a matter of life or death. We can install and service electrical generators to help you safely get through blackouts or unexpected breakdowns.
Common Electrical Upgrades
Trout Electric works hard to provide as many services to our communities as possible.
Whether you're doing a complete electrical remodel or are looking just to make daily routines easier, we're here for you with these available upgrades:
Smart-home configuration
Panel upgrades & replacement
GFCI/GFC outlets
Ceiling fans
Holistic electrical services in Corona like these can make getting up in the morning and going about your day easier and safer. A new panel increases energy availability for an EV charger or smart-home configuration, while GFCI outlets prevent water from causing shorts or sparks throughout your system. Ceiling fans can increase comfort inside or out, especially during a detrimental heat wave. Trout Electric provides a service you can trust no matter what your home or business needs to succeed.
Don't hesitate if you're ready to upgrade your electrical! Call (951) 338-9592 when you need to schedule a free estimate.