Trout Is Your 24/7 El Segundo Electrician
Are you looking for a little help with electrical work in El Segundo, CA? Or maybe a lot?
Do you need an EV charging station installed for your new electric car, or are you remodeling the kitchen of an older home that now need a complete wiring upgrade? No electrical job is too big or too small for Trout's skilled technicians.
All work is done promptly, completed to the highest standards, and warrantied at a guaranteed price. All estimates are free. The price we quote will be the price on your final bill — not one penny more, no unpleasant surprises. Financing is available.
Our Services
EV Charging Stations (Levels 1, 2 & 3)
Trout Electric has been installing EV charging stations longer than just about anyone else. As one of the first certified EV charging installers in California, we helped pioneer the electric car revolution in El Segundo.
Whether you drive a Tesla, Audi, BMW, Honda, Toyota, Mercedes, Nissan, Volkswagen, Mitsubishi, Chevy, or other electric car or truck, we can install the right level 1 or 2 charger for your residence or the level 3 chargers required by your business. Just let us know what you drive, how far you commute, and how many vehicles need charging, and we'll customize a charging station to meet your needs exactly. We'll also examine your electrical infrastructure and your vehicle(s) to ensure that we install the right charging level.
Areas We ServeTitleFont|fnt_t-5 fnt_tc-5SubTitleSubTitleFont|fnt_t-5 fnt_tc-5Description|Trout Electric is proud to serve Riverside, California and other surrounding areasDescriptionFontListClassList|spl-lst pd_h pd_v-30ListMarginTop|mrg_tp-0@@
This is your SubTitle
This is your Description text. Commonly used to call something out.
Why Choose Trout Electric?
What Makes Us Different
Serving Riverside, CA Since 2008
Certified QMerit Partner

Providing trusted electrification installation solutions that meet the highest standards of safety and service quality.

Rigorous Professional Standards

All Trout employees are held to high standards of personal conduct and ethics.

We Offer Financing Options

We offer a variety of options. Call to learn about the details.

We Offer Emergency Services

Get the immediate help you need, whenever you need it.

Licensed, Insured, & Vetted

We make it easy for you to have confidence in the team you call.

Contact Us Today for a Free Estimate

Talk to our electrical team today during a free estimate.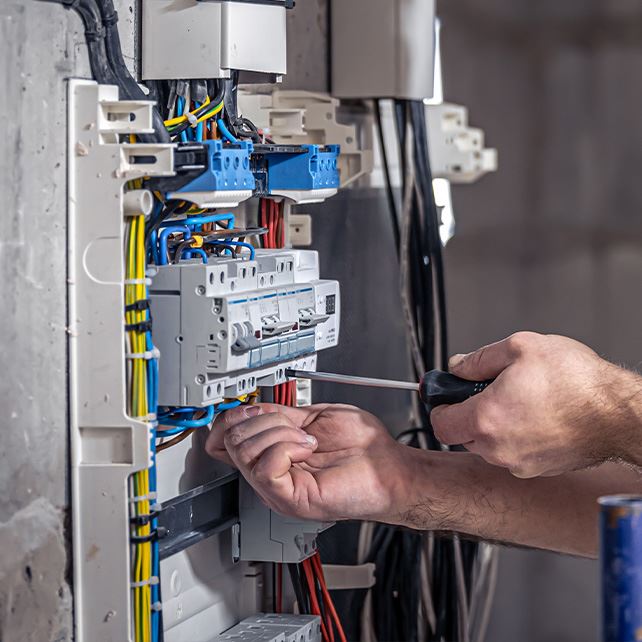 "Excellent EV Charger Install!"

- Rob S.
24/7 Emergency Residential & Commercial Electrical Repairs
When your electrical system breaks, your business may hang in the balance, and at home, certainly your comfort and convenience are at risk. Trout's licensed electricians can respond to your call at any time of day or night, weekdays and weekends alike, even on holidays and bad weather days. Trout's Emergency Troubleshooting Team is elite. We're the best troubleshooters in the industry, and certainly in the El Segundo, CA area. You won't ever have to wait for parts. Our trucks are stocked from our very own warehouse. In most cases, we'll resolve your problem in a single visit, whatever the issue. Our consistent 5 star reviews are a clear signal from our customers that not only do we fix it right, we do the work safely and at a fair price.
Electrical Rewiring
Older El Segundo homes and businesses may have been wired with aluminum, using a knob and tube wiring method, or strung with lighter wire that can't handle higher AMPs. This becomes a real problem as you add new appliances, gadgets, and devices, as you discover that limited outlets in your home or commercial space are inadequate to charge all your cordless devices or power all your workstations, or maybe when you purchase that electric car you always wanted and learn that it may take up to 20 hours to charge it on a slow but safe level 1 charger! Trout Electric can upgrade your wiring to make it much safer, prevent the grid from overloading, and to equip it for the greater demands of the 21st century.
Electrical Outlet & Switch Installation & Repair
Today, you have far more options for outlets and switches than anyone had even 20 years ago. Electrical outlets and switches are evolving almost as fast as smart phones! You may want to install smart outlets for your new smart home, 3-way switches and dimmer switches that give you more control over the lighting ambiance of your living room or studio space, or switches that can be programmed to work with various assistants and apps. Trout Electric can not only repair any older outlets and switches that aren't working, we can replace your "dumb" outlets and switches with newer, energy-saving smart versions.
Smart Home Configuration
Today's home appliances, doorbells, security cameras, windows and window treatments, bathrooms, kitchens, 4K TVs, speakers, and devices are all connected, or have the capability to be connected, to our phones, apps, and computers. Brands like Nest, Ring, Apple, Google, Microsoft, Amazon, Hunter, Nutone, GE, Samsung, LG, etc. offer smart home integrations built directly into many of their products.
Configuring those devices to work seamlessly together, especially when you own a hodgepodge of smart brands, or to respond to the right voice command or app, can be a daunting task for many people when they're new to the world of smart devices. Most people barely scratch the surface of what smart devices can achieve. Trout Electric can guide you through the process of creating your smart home or business, recommend the best devices for it, and professionally install and configure those devices so that your new smart home becomes a joy and an ultimate convenience and not a constant source of irritation.
Join Our Electrical Savings and Safety Program Today!
Contact us to learn more about what's included with this program and how it can save you money!
Electrical Remodeling
Are you renovating or remodeling a portion of your home or business to partition rooms and add space, eliminate or move existing walls, accommodate new appliances and lighting, and so on? We can update or reconfigure wiring circuits, move outlets and add energy-saving dimmer switches, install new canister lighting and ceiling fans, and even transform your living and work spaces into much smarter areas that can be controlled remotely. When it's time to remodel, renovate, or upgrade your electrical system, call us to collaborate with you from the beginning, work with your carpentry and plumbing contractors, and determine which modifications and upgrades are best for your home or office needs in the long run.
Lighting Installation & Repair
New lights can make all the difference in a home or business environment, creating a softer, safer, and much more pleasant atmosphere and saving you a tidy sum on future electric bills. Trout has installed every kind of indoor and outdoor lighting system imaginable, including drop ceiling lights, energy-efficient industrial fixtures, chandeliers, bathroom lights, kitchen lights, sconces, and outdoor porch lights. We'll help you pick the best system for your money, wire your new lighting system with dimmer switches, or configure complete smart light systems that work via voice command or apps that can turn lights on or off at certain times of the day or from a distance.
Ground Fault Circuit Interrupters (GFI/GFC)
GFI outlets are specialty fixtures designed to prevent electric shock in areas where water or moisture is prevalent. The areas where you should consider GFI outlets include bathrooms, the kitchen, swimming pools and hot tubs, and any outdoor outlets that may be exposed to rain or sprinklers. Upgrading your regular electrical outlets to GFI outlets is an investment in the safety of your family and an insurance policy against potential tragedy.
Ceiling Fan Installation
Moving air at 80 degrees F or stagnant air? Everyone knows there's no comparison — a warm room with circulating air can be comfortable for most people, whereas a room with dead air can feel stifling. Hot summer days are an inevitability in El Segundo, CA. A few ceiling fans around your home or office will keep everyone happy and productive, save big money on summer air conditioning bills, and potentially halt any thermostat wars. Rather than attempting to do the job yourself or hiring a handyman on the cheap, let Trout's experienced electricians install your ceiling fans so that they're safely secured to ceiling joists and correctly wired.
Electrical Generator Installation
Along with the summer heat waves come the rolling blackouts, an unpleasant occasional fact of life in El Segundo and many other cities in Southern California. Having a backup source of energy may seem like a luxury to some people, but it can be critical to a business, and it's certainly critical to your comfort when it's 100 degrees outside with the mercury still rising and no relief from the power company in sight. A reserve electrical generator will get you through the blackouts and rough patches and keep your appliances running. Again, let Trout perform the installation for you to ensure it's done safely and efficiently.
The Trout Electric Difference
Trout employs only the best, most experienced, most qualified electricians in the industry. Many apply; comparatively few are hired. Not just anyone can be a Trout!
We screen applicants thoroughly and subject them to rigorous testing. Any Trout electrician must "apprentice" for at least a year on the job before he or she is allowed to work alone.
We take pride in the quality of our work and in the satisfaction of our customers. We're familiar with all the relevant city ordinances in El Segundo, CA and will follow them to the letter. We don't believe in taking shortcuts, ever, to make our job easier or to save us a few pennies.
Our rigorous standards and testing go well beyond those of most other electrical companies. We back up every job we do with warranties and the guarantee that the price we quote to you will be the price that you pay. There are no unpleasant surprises when the bill comes due. Financing is available.
Call us today at (951) 338-9592 for 24-hour service!